When you take a big family on the road, organization is a survival skill.
The holiday season is upon us and as joy-filled as this time of year is, it also comes with tons of potential for stress. Add traveling with kids to the mix and you're even more likely to feel overwhelmed by the holiday mayhem. Tasks like packing clothes and other necessities for little ones, keeping special outfits neat during transit, and, of course, ensuring a peaceful, tantrum-free ride can all put an enormous amount of pressure on parents.
"I love to pack," says Emily Jaminet, who with seven little (and later not so little) ones has been traveling with kids for 18 years. As a busy wife and mama who's also co-authored two books, Divine Mercy for Moms and The Friendship Project, Emily knows the importance of being organized, prepared and, most importantly, at peace when it comes to family travels. Here are the four most important pieces of advice she's acquired over the years:
1. Use a color-coded system
When traveling with multiple kids, there are tons of possibilities for confusing and losing things, especially when jamming bags into a crowded car. While it's tempting to just throw certain things altogether, thinking it will simplify the process, this is actually a surefire route to disorder. Emily ensures everyone's possessions are easily located by having a different colored bag for each child to pack. "I get a sports bag for each child but in different colors so they're easy to find in the car," she explained.
Similarly, toothbrushes can be kept separate in different colored cases to eliminate confusion and reduce the spread of germs, both at home and on vacay. "We put all of our toothbrushes, whether we're traveling or not, in colored traveling cases. If toothbrushes touch each other, they easily spread strep throat and other illnesses."
Besides keeping germs at bay, separating kids' stuff also encourages responsibility. For long car rides, Emily packs each child his or her own bag of snacks so that everyone has their own designated munchies. That way, "they don't fight over it. They know that when they've eaten all their fruit snacks, they're gone. It forces them to be responsible."
Still, there are certain things kids shouldn't be entrusted with, like formal clothing. "Dressy clothes are for when we're making the biggest impression," Emily noted. "I keep with me things like Sunday best clothes or wedding attire. They don't go into the children's bags." Because, better safe than sorry, right?
2. Stock up on thrift store goodies
As far as entertainment for little ones throughout the ride, a whole lot of money can be saved on books, toys and movies if you hit up your local thrift store. "[Kids] need something new to [absorb their attention] and thrift stores are great for that. I used to pack library books but there was too much pressure to keep them in good condition," Emily revealed. "I can get DVDs for a dollar at a secondhand store and not worry if they get destroyed." Since minimizing possibilities for stress is essential for an enjoyable trip, used items are a great find. "As a mom, I'm totally at peace if they lose that item."
3. Plan to do laundrymid-trip
For one, it will reduce the amount of clothes packed and also, you avoid that dreaded heap of dirty suitcase laundry when you get home. "I always pack some laundry detergent and sneak away mid-trip to do laundry, even if it's just so I don't have to wash clothes for nine people as soon as I get home," Emily explained. Even if the family is staying somewhere that doesn't provide a laundry machine, she seeks out a laundromat. Plus, there's the added bonus of some precious alone time. "For me, just getting away for that couple of hours is relaxing."
4. Vacation is what happens along the way
It's easy to provide the basics for keeping kids content: a comfy seat, a pillow, and plenty of snacks and entertainment. But for little ones, hours upon hours in a car can get claustrophobic pretty quick. My favorite piece of advice from Emily was to maintain the mindset that the vacation starts when you get in the car. In other words, it should be an enjoyable time for everyone as soon as the journey begins. "As parents, sometimes we just want to push through and go as many miles as we can," she said, "but that can be hard on the family."
She recalled a time when all nine Jaminets were packed into the car on a road trip and the baby was crying, her five-year-old was frazzled, and stress was in the air. "So we stopped at a rest stop and kicked a soccer ball around for awhile. Some of us used the bathroom and sat in the sun and it gave us a chance to regain our sanity."
She also recommended switching seat positions to give kids a fresh perspective or rolling down the windows and playing loud, fun music to lighten things up a bit.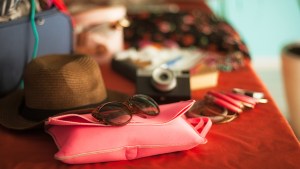 Read more:
6 Tips for packing an (almost) perfect suitcase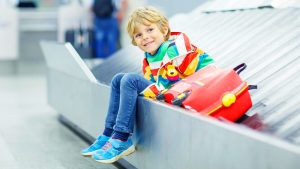 Read more:
5 Do's and don'ts of traveling with a large family