Once you're where you want to be, the challenge is maintaining it.
Need an idea for Lenten almsgiving?
Help us spread faith on the internet. Would you consider donating just $10, so we can continue creating free, uplifting content?
Make a Lenten donation here
People often arrive at nutritionists' offices more worried about how to get down to their ideal weight than about how to maintain it. Some people think that, once they reach ideal weight, that's it — they can abandon their diet! However, that's not the way it works. Some people come to my office after a diet, having regained the lost pounds and even having gained a few more. This is what's called the "rebound" effect.
Many people end up asking themselves if it is really possible to maintain the ideal weight that they worked so hard to reach. Of course it is! The first thing we need to know is that there's no such thing as a "miracle diet." What we need to do is change our habits, and make those new habits last. It's not a matter of removing some foods from our diet and adding in others others for a short period of time, and then going back to eating like we did before.
The ideal way to diet is to begin an individualized food plan with the help of a nutritionist, who can indicate to us, in accordance with our caloric needs and current nutritional status, the right kind and amount of food to eat. Once we reach our desired weight, we need to continue being guided by habits to maintain our weight and not relapse.
Losing weight not only gives us the opportunity to improve our health; we can also improve various other aspects of our lives, such as self-esteem, our relationship with our own body, and self-confidence.
Nutritional advice
Set goals. Plan short, measurable goals, so you can evaluate your success objectively and, in this way, find the necessary motivation and energy to continue the stage of weight maintenance with enthusiasm.
Find motivation. You need to achieve equilibrium between what you eat and the energy you burn, so you can avoid big fluctuations in your weight. In order to control what you eat, it's critical that you find a motivation you can remember when you are faced with the temptation to eat something that could lead to your losing control of your diet because of thoughts like "I'll only eat a tiny portion," or "It's the weekend, it's okay to indulge."
Eat regularly. It's very important not to skip meals — especially breakfast, within an hour after waking up, which makes an important contribution to the energy you need for the day. You can have snacks regularly spaced between meals, but they should always be something light: a piece of fruit, a vegetable (such as a carrot or some celery), one light yogurt or one cup of cold skim milk, or two thin slices of low-fat cheese, for example.
Eat a family meal without distractions. Eating together as a family at least once a day, without distractions such as television, a tablet, or a smart phone, gives us time to be together, to relax, to pay attention to what we eat, and of course, to enjoy good food and good company.
Give yourself a treat. At least once a week, you should plan a time for a treat — as well as planning what that favorite food will be. It could be something that contains up to half of the calories that you consume that day; for example, if your daily caloric allowance is 1,600 calories, your treat could contain up to 800 of those calories. You should choose a moment when you can sit down and relax so you can savor your food and feel satisfied. You should always accompany your meal with a hot or cold beverage, such as plain water, a cup of tea with low-calorie sweetener, or a diet soft drink.
Chew well and eat slowly. Cutting your food into small bites, chewing it well so you can appreciate the flavor, and taking your time during your meal are good strategies for stretching out the time you eat. Both lunch and dinner should last for at least 20 minutes, because this allows you to enjoy the food and gives your body time to activate the satiety center in your hypothalamus.
Eat consciously. You need to pay attention when you are eating, because that way you will enjoy your food more, and you will notice when you are satisfied, thus avoiding overeating.
Exercise. Doing some kind of physical activity will help you burn calories, increase your muscle mass, and at the same time, will help you feel more active and energetic.
When are you done? You aren't "done" until you have consolidated the positive changes in your eating habits, gotten rid of your bad habits, and managed to maintain your healthy weight long-term. The time needed to make these changes varies from person to person; it's generally thought that we have to maintain that weight for about a year for our organism to become accustomed to it and adopt it as our normal weight.
Weight maintenance requires determination, because changing our eating habits takes constancy, perseverance, and the right motivation so we can hold on to the results we have achieved and not rebound. You can do it!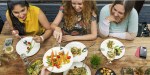 Read more:
Want to lose weight? You may need to eat more


This article was originally published in the Spanish edition of Aleteia, and has been translated and adapted here for English-speaking readers.