Two women discuss how they navigate the tough waters of in-law relationships.
Jokes about in-laws, especially mothers-in-law, are as old as the hills, but that doesn't mean there's a lot of wisdom out there about how to deal best with our closest relatives. I spoke with Megan Schrieber and Becky Carter, hosts of the Thriving in the Trenches podcast, about what it takes to live in peace with the most crazy-making category of people in history (that most of us belong to in one way or another).
Why do you think so many people struggle to get along with their in-laws, whether it be a daughter-in-law, father-in-law, or the proverbial mother-in-law? (Everyone knows that sons-in-law are perfect.)
Becky Carter: (Laughing) That is the joke between me and my mother-in-law: that my husband is perfect and he never did anything wrong. I'm afraid Jim hates it.  
Scripture offers great advice for couples that you hear a lot among Protestants, but not so much Catholics. It is the ancient wisdom from Genesis: "A man shall leave father and mother, and shall cleave to his wife: and they shall be two in one flesh" (Genesis 2:24). The leaving and cleaving – a protection of the marriage bond between the couple — doesn't always happen.
In my case, it happened quite easily because as a couple we never lived in the same town as both sets of parents. But given technology today, it is easy to see how when trouble arises in a couple that a parent can be pulled back into a relationship in a way that isn't healthy.
The bigger issue is that when a couple gets married, they are blending two different family cultures. All families have baggage, but the new spouse doesn't have years of experience of how to deal with this new culture, baggage, personalities. For example, my Italian heritage always had us talking loud, no filter, very directly, and Jim had to realize we were not fighting, but I also had to learn how to temper the way I spoke with him and his family.
Megan Schrieber: In-laws are the most unique relationship simply because no one selects their in-laws. While we do not select our own personal family, we are born into that family and learn and grow alongside these members. The in-law scenario brings adults together in a situation they did not select and they are now a family unit. That is a lot of pressure. So, yes, any relationship where people have different backgrounds is ripe for misunderstandings that can grow into conflicts.
As part of a newly married couple, each individual is open and interested in building their own life together; creating their new and unique family dynamic. Difficulties arise when in-laws expect their normal to exist in this new marriage or when a couple expects their in-laws to naturally accept these different patterns of family living. These don't even have to be "big" things, like politics, money, or religion, it can be something as simple as how dinner is served that can spark discord amid the family dynamic. A husband may have grown up in a home where dinner was plated and served at the table. He married a woman whose dinner pattern was a serve-yourself-style from a pot on the stove. Imagine how the first in-law dinner at the newlywed couple's home may go off the rails quickly; a mother-in-law wondering why she needs to serve herself, and a daughter-in-law wondering why her mother-in-law cannot help herself.
Of course, different temperaments, modes of communicating, false expectations, can all contribute to relationship difficulties.
You mention mother and daughters-in-law. Why is this one particular so hard?
Megan Schrieber: This is an example of a situation that can be very accurate or very false. It can be similar to buying into the notation that having teenagers will be a parent's most miserable time of parenting.
As women, we take relationships seriously; we genuinely want all relationships to work well. A mother-in-law may expect this new daughter in her life to be similar to her own daughters. Or if the mother-in-law does not have daughters of her own, she may have a fantastical idea of how this new mother-daughter relationship will unfold. The same could be true for the new daughter-in-law's expectations of her mother-in-law.
Becky Carter: There are situations where in-law relationships start out very well and then the struggles come later as people change, points of views change, differences in child-raising become apparent. Even just the natural stress of parenting, growing older, loss of a spouse, health issues, all put a lot of pressure on even the best of relationships. Sometimes our own insecurities are really the issue and not the other person at all. For example, a mother-in-law might say, "I never had that problem with my children." She might just mean exactly that, as a declarative statement, but a daughter-in-law who isn't confident in her own parenting might read into it, "therefore you must be doing something wrong," even if that wasn't what the mother-in-law intended.
And then there are times when something with more ill will really was meant, because of different ideas about how to raise children and this was the mother-in-law's way of letting off steam. Clearly, this isn't the healthiest approach – but this can often happen because of these clashes of family cultures.
What are some ways that we can use our faith to help deal with these issues?
Becky Carter: We often think that we can find sanctification if we just didn't have to deal with these people. But Christ knows exactly who you need in your life to help sanctify you. Like rushing water over jagged rocks, the water smooths out the rough spots. Our family is our sanctification. We don't become holy in spite of them but because of them.
Sometimes issues are resolvable, sometimes they aren't. I know of one man who has such a hard time with both his in-laws that he just schedules in confession while they are still in town because he has had enough experience to know that things just won't go well. This an instance where the sacraments can offer some consolation, particularly when there is little hope that relationship will change very much until there is deep healing on one or both sides. Sometimes we need to learn to trust even in messiness and to understand that we can't control everything. It is okay to recognize deep divisions, but even more important to not let these divisions overwhelm us or lead us to despair.
This is also where we can rely upon the sacrament of matrimony with a knowing that the no matter what in-laws may say or do, our marriage is what God has called us to live out as best we can. Yes, children should want the approval of their parents, but when that approval comes at the cost of the marriage, then there is a big problem. We need God's approval in all things – and perhaps some of the tension of in-laws is his way of shedding what is not really ordered to him.
Megan Schrieber: Our faith, when understood from the lens of true self donative love, becomes the very thread that can strengthen our marriage and our in-law relationships. When we can set aside our own hurts or issues and see the other as Jesus sees them, the stings of conflict are lessened. [Accepting them exactly as they are, where they are, without trying to change them can go a long way.] This takes practice but bears great fruit; not just for the other, but also for ourselves.
What can spouses do together to support each other, and the entire family, through such difficulties instead of letting it tear them apart?
Megan Schrieber: The is a critical piece of the in-law puzzle.
First, each spouse must recognize their marriage is a bond between themselves and God. We do not have this same sacramental bond with our parents or with our children.
Second, each spouse needs to agree that the other comes first. The husband's sister should not come before his wife without discussion and agreement from his wife. The wife's mother should not come before her husband without discussion and agreement from her husband.
Third, each spouse must agree to have their spouse's back. This last part needs to be discussed with each other before a potential conflict escalates. Going back to the dinner example, the wife needs to be clear "Tom, I am happy to have your parents over for dinner on Sunday, but I need to serve dinner in my normal style. If your mom makes a jab at me for not plating the food or serving everyone, I need you to let her know this is how we do it in our home." It is also important to understand that when a spouse stays silent on an issue, invariably the other spouse feels alone and isolated.
Becky Carter: Wives tend to be relationship builders and tenders that hold families together. It is important for us to encourage our spouses to have good relationship with their parents, and for grandchildren to know their grandparents. These relationships are good, and so trying to move beyond hurt and fear into trust that God can take care of these issues is important. It is good to look for ways to go out of our way to love on our in laws in a way we know will speak volumes. I know my mother-in-law loves handwritten cards, and I sure wish I'd do a better job of dropping a random card in the mail more often. Also, asking ourselves if we've contributed to tension in the relationship and seeking forgiveness for our own short-comings will go a long way. Humility and charity are the most important virtues in all relationships, especially family.
Megan Schreiber: Yes. And in the end, the person we fell in love with is the byproduct of his/her extended family; so somewhere along the way, they must have done something good! A good we have chosen to spend a lifetime loving. 
Read more:
Why in-laws are more of a gift than a burden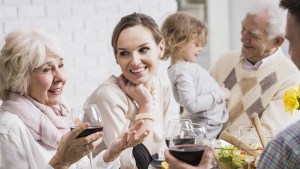 Read more:
How to stay on good terms with your in-laws