St. Raphael Kalinowski could have been most anything, but the only thing he wanted was to rest in God.
Need an idea for Lenten almsgiving?
Help us spread faith on the internet. Would you consider donating just $10, so we can continue creating free, uplifting content?
Make a Lenten donation here
St. Raphael Kalinowski could have been anything—and he pretty nearly was everything. He was a scholar, a soldier, a math professor, a railway engineer, a revolutionary, a prisoner, a tutor to a saintly prince, and finally a Carmelite priest. Above all, though, he was a child of God.
Born Joseph Kalinowski to a noble Polish family in 1835, the future saint lost his mother when he was just a baby, then his stepmother when he was 10. His father's third wife became a great influence in his life, encouraging him spiritually as well as in his remarkable academic career. He graduated from the boarding school his father taught at, then headed to the improbably-named Hory Horki for university. Equally good, it seems, at a variety of sciences, he chose to study zoology, chemistry, agriculture, and apiculture (beekeeping).
But Kalinowski's love of creation didn't extend to a love of the Creator; gradually he drifted further and further from the faith of his youth. For him, knowledge and worldly success were enough. He had no particular need, he felt, of the things of God.
Despite his aptitude, Kalinowski's options were limited because of his ethnicity; Poles at the time were only permitted to pursue graduate studies if they were members of the Russian army. So Kalinowski enlisted in the Imperial Russian Army and began to study engineering. He spent some time as a math professor before beginning his work designing the railroad that would connect Kursk to Odessa.
It was during this time that the call of the Lord began to penetrate Kalinowski's heart. As he worked on the railroad, he had many hours to spend in solitude. There, in the silence, God began to draw the young engineer back. He began to realize the need for an interior life, but still he remained far from the sacraments, seeing God more as an idea than as a lover.
Meanwhile Kalinowski was rising through the ranks, but his heart wasn't with the Russian cause. He sympathized with the plight of his oppressed Polish brethren and when he was 27 he made the difficult decision to become a traitor—or, rather, a patriot.
After he defected to the Polish rebels during the 1863 January Uprising, Kalinowski's brilliant mind was put to good use as minister of war. But while he had left behind the Russians, he still hadn't left behind his sin. For 10 years, Kalinowski had been away from the sacraments; finally, his younger sister and his stepmother told him they would only get a particular gift for a friend of his if he would go to confession. Though not at all eager, Kalinowski went; in that moment, he experienced profound grace, mercy, and fullness of conversion. "After 10 years of apostasy," he said, "I have returned to the bosom of the Church."
Read more:
We did everything right, but our son still left the Church
The timing of Kalinowski's conversion was one more element of God's abundant Providence; he would need all the strength his faith could offer if he was going to survive the coming ordeal. Not much more than a year after the insurrection began, it was over. Though Kalinowski had vowed never to execute anyone, the Russians didn't return the courtesy when the uprising was defeated. Kalinowski, among many others, was sentenced to death. Wary of making a martyr of him, they later commuted his sentence, but that still left him with a death march followed by 10 years of back-breaking labor in the Siberian salt mines.
Through 10 years of misery, Kalinowski never despaired. He found God in silence, encouraged the men around him, and rejoiced when finally he was sent to a prison camp where an exiled priest was also living. For 10 years, this man who could have had everything rejoiced in the nothingness that had become a sort of novitiate for him.
When, after a decade of exile, Kalinowski was set free, his one concern was finding the right religious community to enter. As he searched, he spent time as a tutor and mentor to Prince (now Blessed) Augustus Czartoryski. Finally, in 1877, Joseph Kalinowski entered the Carmelites and became Brother Raphael Kalinowski. Five years later, he was ordained a priest in Poland and began his ministry to Catholics and Orthodox. He established Carmelite foundations all over Poland and Ukraine and was known as a martyr of the confessional.
After 25 years of service, Fr. Raphael Kalinowski died of tuberculosis at the age of 72 in Wadowice, Poland. Thirteen years later a boy was born in that same town who would find in Raphael Kalinowski a model of holiness, intellectual excellence, and the pursuit of justice. Years later, that little boy grew up to become Pope St. John Paul II and to canonize his personal hero in 1991.
St. Raphael Kalinowski was brilliant and well-connected. He could have been a great statesman, scientist, or scholar, but with all his successes his heart was restless until it rested in his Lord.
On November 19, his feast day, let's ask his intercession for the courage to lay aside our plans and follow after Christ, whatever riches and honors the world might seem to offer. St. Raphael Kalinowski, pray for us!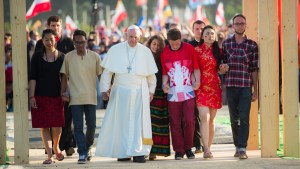 Read more:
Pope Francis to business students: If you worship money, you'll become a slave