These great options will bring a touch of nature, whimsy, or elegance to your big day.
One of the trickiest things to do when organizing a wedding is sorting out the seating plans. While everyone who comes to the wedding loves at least one of the two spouses, they don't necessarily all get along with each other; plus, feelings can be hurt if some friend or family member feels that the place they have been given doesn't properly reflect their relationship with the bride or groom.
So, once you've finished deciding who should sit where, you'll want to make sure your plan is respected to the letter, using a distinctive place card to guide your guests to their seat. Although you can go with printing each name on a simple rectangle of decorative card stock placed next to the place setting, a more elaborate wedding place card can bring a decorative and elegant touch to any table.
Things to consider when choosing your place cards
It's important to remember that the more detail you want to add to your place cards, the more time they're going to take to create; added to the list of all the other wedding decorations to attend to, you might want to consider how much time you are willing to spare. Obviously, homemade place cards are an attractive option for reducing costs, but remember: by the time you buy all the supplies, they might not be as cheap as you think, especially if your guest list is long!
Make sure you spend enough time weighing up all your options – there are many! – and consider whether the place card you want is really feasible. Take the time to properly count up all the number of invitations, even though this number can change quite a lot right up until the big day, because the number of place cards you need to make or buy is an important consideration. You'll also have to make sure that the place cards match the theme of your wedding, and that any fresh decorative touches you have in mind will be in season on the day of your wedding.
What to look out for with DIY place cards
In practice, the greater the number of guests, the longer all those tiny details in making the cards will take. An intricate place card will necessitate a lot more detailed work than a piece of card stock with the name of your guest simply written on it. Try making a model of your desired card, and time how long it takes; multiply that by the number of guests, and you'll soon get a notion of how many evenings it will take to get them all made. Also, remember that any cards with fresh flowers or fruit will need to be done just before your wedding day! As you'll note in our selection, the simplest place card is often the most elegant.
A place card that matches your theme
Whether you've opted for a wedding reception that's rustic, classic, or taking place on the water's edge, it's possible to personalize your place cards with the same theme as your save-the-date notes and the invitation. You should bear this in mind when you come up with your budget for decorating the venue; perhaps you can use small cuttings or scraps from the main decoration as part of your place card design. Whether you opt for floral cards, potted plants, or a simple seashell, all that is left is for your guest to find their place and celebrate your union.
A selection of decorative place cards to inspire you
Seaside treasure
See what the tide brings in with its huge choice of shells, pebbles, driftwood, or even sea glass. You can decorate them to match the theme of your marriage, or use them in their natural state, at next to no cost.
Fruits of the earth
Try going back to nature to help your guests find their place. Take a simple piece of seasonal fruit and adorn it with an elegant tag, and once celebrations are under way your guests will be able to have a snack in between dances.
A touch of cloth
Opting to use fabric with a card is an easy way to bring your personality to the occasion. Choose among the myriad possibilities of ribbons, velvets, lace, or pieces of cotton to coordinate with the decor on your big day. Just remember that threading all those place cards could be rather time-consuming, so make sure you have left enough time to set the table.
Stunning succulents
Succulents have become increasingly popular in recent years, and so it's understandable that they've made their way to the wedding reception. Just stake a little sign in the plant's pot for a personal touch! Although they can be quite expensive, succulents can also serve as a favor to pamper your guests. What's more, the growing plant will be symbolic of the newlyweds' love!
Naturally rustic
Try scavenging for interesting pieces of wood, or use your craft skills to cut pieces of wood to the right size so you can write your guests' names on them. They don't have to be the same shape or size; their rustic charm will lend some natural elegance to any marriage.
Whimsical floral touches
To enhance any place card, add a mini bouquet of fresh or dried flowers, a simple sprig of lavender or wheat, or even just a leaf. You can match it with the theme of your wedding and select a seasonal offering.
Travel in style
For those who love to travel, look to postcards, compasses, and empty bottles containing the name of your guest — just like a message in a bottle drifting out to sea. The options are endless, and can even include a nod to your honeymoon, or to each of your guests' hometowns, for that really personal touch.
A tasty treat
Also working as a favor, these place cards are perfect for indulging your guests. From miniature pots of honey, jam or syrup, to a lollipop for all those inner kids, or even a more savory option of olive oils or flavored salts, there are lots of options for spoiling your guests and giving them a reminder of your special day.
The written word
Keep things simple by writing the names in beautiful calligraphy on pieces of card stock, and attach them to a sprig of olive or eucalyptus, or perhaps a twig of lavender or rosemary. By focusing on the calligraphy, this bohemian place card is all about understated elegance.
Quirky repurposing
Take an object — even better if it's sentimental in some way — and give it a new lease on life. Scrabble letters, champagne corks, mini-jewelry boxes, or a favorite figurine: you can let your imagination run wild and create a unique place card that will stand out in the crowd.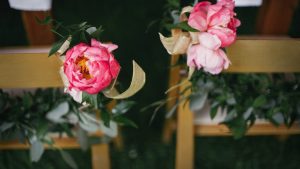 Read more:
10 Simple wedding decorations no one will forget
This article was originally published in the French edition of Aleteia, and has been translated and adapted here for English-speaking readers.