You may not attract attention like Wonder Woman, but your influence is just as powerful.
What can God do in your life with one Bible verse a day?
Subscribe to Aleteia's new service and bring Scripture into your morning:
Just one verse each day.
Click to bring God's word to your inbox
When it comes to stereotypes of men and women's roles, a lot has changed in the world over the past century. People's minds are opening more and more to the contribution women can make in all sorts of roles in society, and men are not all expected to fit into the same macho mold. More and more women are entering STEM careers; it's okay for a man to cry, and for a woman to have a commercial driver's license. My son pushes a toy stroller and my daughter plays with planes, and I don't hear worried comments about it from other people. In stores, I see policewoman dolls, and robotics sets for 4-year-olds don't have a gender designation.
We constantly hear the saying, "You can be whatever you want, so follow your dreams, not other people's expectations." If we, as adults, can strengthen the foundations of this cultural evolution, then we will see future generations grow up with freedom to be themselves and respect other people's right to do the same.
This transition is further along in some places than in others. When I remember my childhood and youth in Poland from the perspective of an adult woman today, I see that my upbringing was based on creating femininity in opposition to masculinity. "Male" interests and responsibilities were treated by our teachers as being more valuable, more demanding, and certainly farther-reaching. According to the general opinion back then, we were the beautiful sex, but also the weaker one — and that prejudice wasn't limited to Poland.
However, we women have long known that the "weaker sex" epithet is, in many ways, baloney. Now that opportunities are opening up for us, we want to prove our strength and strive for great things. For some women, that means taking over roles traditionally reserved for men. That's certainly an option, but actually, "women's roles" (which we now know isn't exclusive to women either), such as staying home to raise children, are as challenging — or more so — as any other career.
Difficult decisions
In this context, mothers of newborn children are faced with a difficult decision. They aren't obliged to stay at home with their baby; they can organize their life to go back to work two weeks after giving birth. However, it's something of a "damned if you do, damned if you don't" situation. If you don't take maternity leave, you can be seen as a selfish mother who is only interested in her career; on the other hand, if you do take maternity leave, that can be criticized too, because you are "giving in to old-fashioned stereotypes," wasting your potential, and sacrificing your career.
In the end, we know we can never please everyone all the time, not even the people closest to us — our parents, spouse, and close friends — let alone the people we work with. In the end, you are the mother, and you are the one who has the right and the duty to make the best choice for you and your family. Choosing to return to work is an acceptable option, and often is necessary to maintain the family income; but there is nothing less significant, noble, or fulfilling about being a stay-at-home mother. In fact, you can choose a "woman's role" and still be a superhero!
Strength, thy name is woman
The day I saw the recent movie version of Wonder Woman, I came back from the movies excited and moved. This is the first time in Hollywood's big screen production that a woman not only helps men as a great counselor, not only breaks the rules of 2oth-century Europe by participating in strategic war discussions, and not only is beautiful, but also is a strong woman who saves the world!
Excellent physicality, mental acuity, and superpowers are undoubtedly the common denominator of nearly all heroes. Wonder Woman is richer and more interesting for me personally than any male superhero, because she is a woman, and her femininity isn't accidental to her character. Her strength is totally feminine.
She leaves her non-coeducational island of Themyscira, populated exclusively with Amazons, and she sets off to find and confront Ares, the god of war. At the London railway station, in the crowd of people, she sees an ice cream vendor for the first time in her life. She buys a scoop and takes a lick, and is amazed. It's a beautiful scene; there's a mass of speeding grayish people, and there she is, awestruck by the taste of ice cream.
Remember, she is going to war with Ares! But she can look at the ice-cream vendor and say, "This is wonderful, you should be proud of yourself!" And when she is stopped by a baby's cry in the trenches, that baby becomes a stimulus to change plans and win a small battle, even though just a moment before she was being calmed by male logic: "Leave it alone, you cannot save everyone."
She brings gentleness, sensitivity, perceptiveness, and feelings into the brutality of reality. She doesn't think that her super shield, hammer, or suit are the only things that will help her win; as she says herself, "It's about what you believe. I believe in love. Only love can really save the world." Sure, she is a fictional character from a movie (kudos to the screenwriters), so of course she says wonderful things that most of us could never improvise. But I agree with what the actress who plays the superhero is quoted as having said: that every mother is a Wonder Woman.
Mothers save the world
Maybe you are straining your imagination trying to see even a shadow of a superhero in a stay-at-home mom, with her messed up hair, her absentmindedness, and her painful breasts, picking up scattered baby toys and paraphernalia from every corner of her home.
Yet in all this, there is patience, tenderness, and presence. There is concern for others, and the willingness to spend yet another night with almost no sleep. Dedicating years of your life to your children requires empathy, sensitivity, and a superabundance of love. All of this flows from your unique femininity, and through it you — together with your spouse — you raise a new human, preparing him or her to be a part of society. You make the world a better place. We could well say that you save the world — for your children, and for all those your children will influence.
You won't be followed by paparazzi, appear in the newspaper, or receive medals of honor, but a stay-at-home mother still saves the world, day after day. If you happen to think that what you do is insignificant, then think of Marie Curie, Teresa of Lisieux, Pope John Paul II, or any other person who has made a large-scale difference in the world. Now, think about the fact that when a mother holds her baby in her arms, she is holding a little human being who is like a pure blank canvas. It is the mother and father who write the first words which will carry your child through his or her life. Do you now feel the power you have?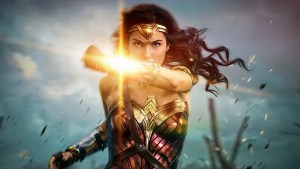 Read more:
This Wonder Woman's power lies in her heart, not her fists
This article was originally published in the French edition of Aleteia, and has been translated and adapted here for English-speaking readers.