The "lost" work sold for $10,000 in 2005 before it was attributed to the great master
Leonardo da Vinci's painting "Salvator Mundi" sold at auction on Wednesday for a record $450.3 million. The painting surpassed the previous record sale price of Picasso's "Women of Algiers," purchased in 2015 for $179.4 million.
The high price is all the more astounding given the interesting history of the painting, which was only attributed to Leonardo after its owner who had purchased it  for  £45 in 1958  put it up for auction in 2005.  A group of art dealers including Robert Simon spotted it and purchased it for $10,000 thinking it was by Leonardo's students.
After removing layers of varnish on the painting Simon and his associates determined that the work was by the great master himself. The painting was then purchased by Russian collector Dmitry Rybolovlev for $127.5 million, making it the most expensive Leonardo ever purchased.
Christie's auction house, which put the painting up for sale, engaged in a marketing campaign unheard of in the art world. According to the New York Times, this was the first time an auction house hired an outside agency to advertise a work, which had some art experts grumbling that the painting was not nearly worth the price as some questioned its authenticity.
"This was a thumping epic triumph of branding and desire over connoisseurship and reality," said Todd Levin, a New York art adviser, told the Times.
Others, including Nicholas Hall, the former co-chairman of old master paintings at Christie's, saw the sale price as in keeping with the value of the work. There are only 15 paintings by Leonardo in existence, and all of the others are in museums.
"There is extraordinary consensus it is by Leonardo," he told the Times.
"This is the most important old master painting to have been sold at auction in my lifetime."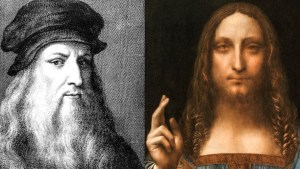 Read more:
The rediscovery of Da Vinci's "lost" painting of Jesus