What type of food? How much should be prepared?
In the 6th century, St. Benedict of Norcia was a revolutionary abbot. He established countless monasteries under a common rule that brought much needed order to the monastic life. The rule covered all aspects of life, including meals.
In his Rule, Benedict made specific regulations for meals in community that helped nourish both the soul and body. Here are five of those practical rules that can be applied in various circumstances.
1. Cook a few different types of food, giving options for everyone to eat
We think it sufficient for the daily meal, whether at the sixth or the ninth hour, that there be at all the tables two dishes of cooked food because of the weaknesses of different persons; so that he who perhaps cannot eat of the one may make his meal of the other. Therefore, let two cooked dishes suffice for the brethren; and if there is any fruit or fresh vegetables, let a third dish be added. 
2. Everyone should take turns in the kitchen
All the brethren, except those who are hindered by sickness or by some occupation of great moment, shall serve each other by turns, so that no one be excused from duty in the kitchen, for thereby a very great reward is obtained.
3. Moderation is to be observed in the food (and drink) prepared
[E]xcess [is to] be avoided above all things, that no monk be ever guilty of [consuming too much]; for nothing is more unworthy of any Christian than gluttony. Although we read that wine is by no means a drink for monks, yet, since in our days the monks cannot be convinced of this, let us at least agree to this, that we do not drink to satiety, but sparingly.
4. Avoid eating alone as much as possible
Brethren who go out on any business and expect to return to the monastery on the same day should not presume to take any food while outside the monastery.
5. Treat dinner guests as Christ himself, even breaking a personal fast to accommodate a guest
Let all guests arriving at the monastery be received as Christ Himself, for He will one day say, "I was a stranger and you took Me in." And let due honor be paid to all, especially, however, to those who are of the household of the faith — and to strangers.The superior may break the fast on account of a guest.
Read more:
Spencer: The first Trappist brewery in the "New World"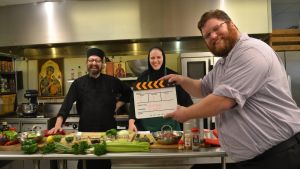 Read more:
Byzantine monk and nun debut cooking show on balanced life of feasting and fasting