Our lives are imperfect, but authenticity is more life-giving than being fake.
Need an idea for Lenten almsgiving?
Help us spread faith on the internet. Would you consider donating just $10, so we can continue creating free, uplifting content?
Make a Lenten donation here
This is officially the most terrible thing I have ever heard of in my life. A company in Japan provides actors that fill in the relationship gaps in people's lives. For example, one woman who was divorced when her daughter was an infant hired the founder and CEO to stand in as the girl's father. Not just once, though … he's been pretending to be her father for eight years, since the girl was 12. The girl in question believes that he really is her father, and the mother has no intention of ever telling her daughter the truth.
The Atlantic recently did an in-depth interview with said founder, Ishii Yuichi, and I couldn't read the whole thing without weeping for everyone involved, even the founder.
It's a business. I'm not going to be her father for 24 hours. It's a set time. When I am acting with her, I don't really feel that I love her, but when the session is over and I have to go, I do feel a little sad. The kids cry sometimes. They say, "Why do you have to leave?" In those instances, I feel very sorry that I'm faking it — very guilty. There are times, when I'm done with the work and I come back home, where I sit and watch TV. I find myself wondering, "Is this, now, the real me, or the actor?"
Yuichi insists that he is correcting injustice by offering a more perfect form of reality — cleaner, without the messiness and heartbreak of actual reality. But I can't imagine anything more heartbreaking and messy than a child growing up loving a father, only to learn as an adult that he was a paid actor. How can that damage ever be undone? In one fell swoop, the person loses the entire foundation of their childhood — not only the only father they've ever known, but also every childhood memory, every assumption, everything they know about themselves. Their relationship with their mother would be shattered, trust broken, an entire life revealed to be a lie. It's like The Truman Show.
This is unconscionable and unethical. And even with less egregious contracts, there's something deeply wrong about trying to replace real life with something not real, no matter how much "cleaner" it might feel.
And yet, aren't we guilty of this in our own lives to an extent? What is social media if not a chance to present to the world a "cleaner, less messy" form of our lives?
That's one of the reasons it's so important to not base our identities and friendships entirely on the virtual world. Even when I try to be authentic, there's still parts of life I edit out of Facebook. Those are the things I save for real-life friends, even if we talk about it through Facebook messenger. Those are the messy parts of life, the parts that are hard and painful and sometimes horrible, but inescapable.
Trying to escape those things, whether through social media or deliberate self-delusion, won't negate pain or injustice in the end. It might be a temporary Band-Aid, but it can't keep reality at bay forever.
Suffering is a part of life, but not all suffering is bad. Some of it can be good, noble, or even beautiful. But all suffering has meaning. Trying to hide from it is trying to hide from life itself. It can't be done … and it shouldn't.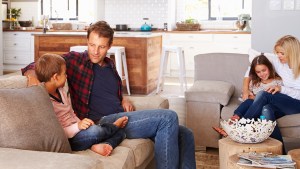 Read more:
How to slow down your fast-paced life
Read more:
The question you should ask someone who is suffering