Just a few small touches can help make this holiday meal with family and friends feel extra special.
Setting a beautiful table is just one of the many joys of hosting Thanksgiving at your home. And though you have a lot to do before the turkey's done, little dinner table touches like pretty place cards, mood lighting, or festive centerpieces can help make your guests feel appreciated, as well as set the tone for cozy conversation.
If you're hosting family and friends this year, learn how to recreate one of these stunning tablescapes below:
Pumpkin patch
Pick out an assortment of miniature pumpkins and paint them in four or five different colors that complement your place settings. Turquoise and gold offer unexpected touches. To make your orange pumpkins extra shiny, coat with clear gloss spray paint.
Fruits of fall
If you're not a fan of pumpkins, this elegant table treatment incorporates other autumn favorites like pears and apples for a rustic, country vibe. Use large sprigs of oregano and other sturdy herbs to bolster your arrangement, and keep the fruits from toppling onto the table.
Buffet style
Use large pumpkins to hold platters and plates. Simply cut off the stems of the pumpkins to create a flatter surface, and match the sizes of your serving platters to the size of the pumpkins. If you opt for a range of heights, guests will be able to see your offerings more easily.
Mix and match
The key to this playful table is that it incorporates several different patterns, but in similar earthy color palettes: dark browns, white, golds and oranges.
Coastal gathering
If you have a home by the ocean, it's nice to incorporate a beach-y atmosphere into your Thanksgiving tablescape. The light turquoise plates underneath white pumpkins and white starfish bridge the gap between seasonal and seascape.
Blue and white delights
Pretty deep blues and whites work together to create a calming dinner table. But it's the natural details that make this table feel extra homey. The blue hydrangeas and white pumpkins also add a sweet seasonal touch.
The simple, great outdoors
Live in a warmer climate? Consider moving your Thanksgiving table outdoors so your guests can enjoy real fall foliage. (Bonus: that beautiful backdrop is free!) Mixing up chairs only add to the charm of this gathering. Just make sure to provide blankets for all of your guests. Menus are also a nice touch if you have the time. Better yet, task your tech-savvy teen with designing and printing your food lineup with this free HGTV Thanksgiving menu template.
Soup set-up tip: If you're going to have the first course waiting for guests as shown here, ladle the soup into bowls a little hotter than usual, and set them on the table right before you ask guests to sit down.
Loaves of love
Whether you bake them yourself or buy mini baguettes from the store, everyone at your table will love having a little loaf of their own. Make the breads look like little gifts for your guests by wrapping a ribbon around the center with a sprig of thyme, or a name card if you prefer assigned seating.
Sprig and ribbon
Nothing says seasonal like a sprig of your favorite herb. Forgo pricey napkin holders this year (especially if you don't have enough of your usual set for your larger-than-usual gathering) by placing silverware at the center of each place setting with branches of thyme or rosemary, tied with a colored ribbon. This is also a nice option when the plates will be stacked at a buffet, rather than already on the table.
Animal atmosphere
This golden table mixes fun with tradition. To get the look, use classic white or gold-rimmed china, and then either spray paint small plastic toys in a gold metallic paint, or buy golden animal ornaments like this Nate Berkus giraffe figure from Target ($11). Place them on top of plates or napkins (one per guest), use them as name card holders, or line them up to create a festive centerpiece. Kids will love this table just as much as adults will.
November neutrals
Wintry whites and neutrals are classic and always chic. Recreate this clean, modern table with an elegant white runner, very simple white china and white taper metal candle holders.
T-day tea lights
Let your gratitude glow! Scattering tea lights is a warm, romantic idea for any adults-only table. The green centerpiece is also a refreshing touch for any Thanksgiving table: just buy a some extra acorn squash and thick green lettuce like kale, chard and cabbage while you're at the supermarket and place them in a basket to create a similar arrangement. You can also paint pumpkins or butternut squash light green. (Pro tip: opt for squashes that you might actually want to cook later on in the week, so as not to be wasteful.)
Gold and glad you're here
These cute plates really spell it out for your guests that you're happy they joined your family meal.
Easy kids tables
Crayons for kids
Coloring placemats is a classic activity that will keep the children from getting bored during a long meal with multiple courses. Print out these free placemat designs from Ella Claire using any black and white printer.
Mason jars for munchkins
Going for a rustic vibe? Don't forget to dress up the kids' table with a few mason jars full of crayons. You can line place them on an upside down wooden crate or box to create an easy functional centerpiece. They'll almost look like little colorful bouquets!
Pears and pots for tots
This table setting looks grown-up because it incorporates fruits like the adult table might have, but caters to your little ones. All you need is a sheet or roll of brown construction paper, cut so that it can be taped underneath the sides of the table. The adorable touch here is using a sharpie to draw on pretend placemats for each child before they sit down.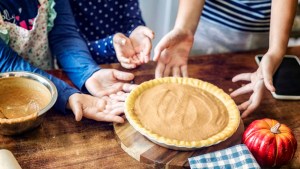 Read more:
5 Foolproof Thanksgiving appetizers and desserts the kids can help make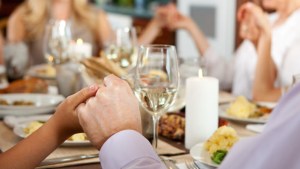 Read more:
7 Surefire strategies for keeping peace at Thanksgiving