Personal style is so much more than labels or price tags.
"Modesty is the elegance of beauty."
When I heard this phrase from the Mexican actor Jorge Lavat, it was instantly burned into my brain. 
Or how about these two quotes attributed to the Venezuelan designer, Caroline Herrera:
"Elegance is not defined only by what you wear; it is the way you behave, the way you speak, what you read. Some people confuse nakedness and vulgarity with sensuality; stick with mystery."
Like Lavat and Herrera, I truly believe tthat when it comes to fashion, often less is more because the essence of style comes from within, not what we adorn ourselves with.
The image you project on the surface — your haircut and your clothes right down to you nail polish — is the first thing people see, whether we like it or not. So it makes sense we all want to take care to look nice and use outward appearance to convey a personality ahead of any words we might exchange. By dressing in a unique way, we can start to communicate who we really are: our personality, the virtues we live and the values that guide us; it is our personal trademark.A simple cross necklace, for example, can softly speak to our faith without having to say a word. And so style becomes like a handwritten signature: unique.
But, at the same time, it's not always easy to know how to reflect an inner personality on the outside through clothing. How can you both stand out from the crowd without going overboard, as well as project an air of personal confidence and balance?
Well, I can tell you this much: It's not a matter of wearing designer clothing. Because personal style is not about disguising ourselves in elaborately designed clothing, or professionally airbrushed model-like makeup. We all know that owning the most expensive dress doesn't make a person worth more at their core; it doesn't add any value to the dignity that we possess as humans. Instead, it's best to start from our interior and work outwards to what we want to show the world.
So the next time you choose a piece of clothing, it's important to ask yourself one elemental (and, admittedly, profound) question: Who am I? From there you can begin to determine the image you want to project to the world. Keep in mind that the clothes you choose should contribute to and build up your persona; they should match your age and the shape of your body, your lifestyle and your dignity. Everything should be in harmony with that little question until you ask each piece of clothing: Is this me?
When you do this more and more, and really think through each purchase, you'll be happier with your closet and appearance in the long run. Because, first, it will reflect the best of you: your confidence and dignity — for people of faith, ours is the dignity of the children of God. Second, you'll feel a sense of coherence; that is to say, your clothes won't just flatter you, they'll become you.
Elegance, modesty, and a sense of decency are not just outfits that can be put on and taken off; they are a way of life.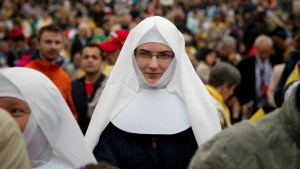 Read more:
Please stop fixating on what women wear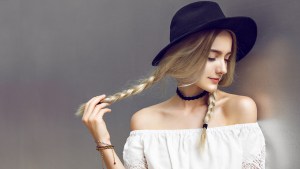 Read more:
5 Fashion trends from childhood that are back in style