Great news for those of us who feel it's wrong to give up our loving nightly routines!
Need an idea for Lenten almsgiving?
Help us spread faith on the internet. Would you consider donating just $10, so we can continue creating free, uplifting content?
Make a Lenten donation here
When I only had one child, I lay with her until she went to sleep almost every single night. We would read a book or I would read her poems or we would just lie in the dark and talk about everything and nothing. When I was pregnant with her little sister I often fell asleep with her, waking hours later to move to my own bed.
When one became two I still lay with them at night or sat at the foot of their bed and read stories. Those nights were magical and lovely and even though I knew I was supposed to teach them to get to sleep on their own, I didn't care. Teaching self-soothing never seemed worth sacrificing those still, sweet moments of connection.
Turns out that my instincts were right all along, according to a recent article at Zen Life about how lying with your children as they fall asleep fosters connection.
You might ask: How will they ever learn to self-soothe? How will they learn to fall asleep without you? Aren't you going to create dependent children who never learn how to function in the world without you? The answer to the last question is an unequivocal nope. Numerous studies have shown that the more attached kids are, the more secure and independent they actually become. It makes sense if you think about it: Giving kids security makes them feel confident and able to function with ease in the world.
I'd like to believe that my desire to accompany my children to sleep was intuitive and helped give them the security they'll need to attack the world like a wild windmill. It's true that not one of them cried on their first day of school, but two of them cried for a week solid when I showed up to take them home.
But the truth is, lying next to my kids and reading them stories as they fell asleep wasn't sustainable. When baby 3 was born, I had to give it up as a regular habit. The girls learned to self-soothe and I learned how appealing quiet evenings are when the kids are in bed. None of my subsequent children experienced those magical bedtimes of stories and poems on a nightly basis, but I didn't give it up altogether.
One of my favorite things about family trips is the freedom to pile them all into one room on a carpet of blankets and read them to sleep. When one is having a particularly hard time with friends or school and can't quite face the dark alone, I still lie with him or her if life permits it. But life doesn't always permit it — sometimes we have to make do with a few extra hugs and the company of the hallway light.
And you know what? They're okay. They know I love them when I lie next to them and read books as they drift off to sleep. They also know I love them when I send them to bed with a kiss and firm instruction to stay in bed.
Whether you sleep train from day 1 or pile all the kids into the family bed, the most important thing your kids need from you is love. As long as they have lots of it, they'll be okay.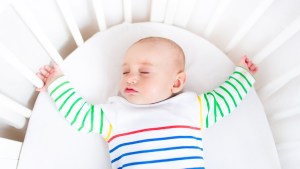 Read more:
Where should babies sleep? The answer is … complicated