Very little time or money is needed, and it's a cure for the chaos and over-commercialization of the season.
Need an idea for Lenten almsgiving?
Help us spread faith on the internet. Would you consider donating just $10, so we can continue creating free, uplifting content?
Make a Lenten donation here
Year after year, does Christmas appear suddenly, like a blurry bomb of shredded wrapping paper, dropping too many plastic toys and redundant sweaters all over your living room floor? Does the holy day then disappear on you just as suddenly, leaving you dazed, financially drained and wondering: "Hey, where's Jesus? Did he ever stop by?"
If so, you're not alone. And if you want to do something to prevent that from happening again this year, celebrate Advent.
What is Advent?
The word Advent is from the Latin adventus, which means "coming." It encompasses the span of time from the fourth Sunday before Christmas until the feast of the Nativity of Our Lord on December 25.  Like Lent, Advent is a preparatory season of looking forward to and waiting for Jesus to be made present in one's life in a new and meaningful way. As Christians, we're not only looking forward to the annual celebration of Christ's birth, but also for the time when Christ will come again.
So how do I celebrate Advent?
Traditionally, Catholics often fast during Advent. Unlike Lent, however, there are no prescribed rules for fasting for this season. The idea is of a lesser penance, as "there can be no feast without a fast." Often this can take the shape of an offering of the money saved on food then given in alms to the poor. As noted in the New Catholic Encyclopedia, during Advent, the faithful are asked to "prepare themselves worthily to celebrate the anniversary of the Lord's coming." Therefore, like fasting, even though there is no specific rule about it at this time in the year, hitting the confessional makes a lot of sense.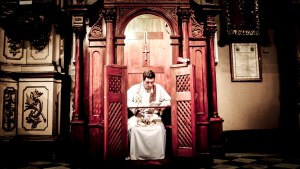 Read more:
How to go to confession, a step-by-step guide
Clean out the stable of your heart, make room for Christ. On this note, I like to prepare for Advent by:
Grabbing a handful of straw: Each year, we keep a pile of clean "straw" on the kitchen counter. Since we're not farmers, our straw is shredded construction paper in shades of yellow and brown. In the days and weeks leading up to Christmas, we write our intentions on the straw: "Change my heart to make it more generous and forgiving." We then fill our "manger" – an old magazine rack – with the folded notes.
The kids also move straw into the manger as a reward for being kind or helpful. Accomplishing chores with a good attitude results in: "Add a straw to the manger." Obviously, this is a practice for younger children, but older kids and even adults get into it as well. Come Christmas morning, a full-sized baby doll waits in our manger, transforming the prepared but incomplete spot of shredded brown and yellow "straw" to a touchable, kissable symbol of joy.
Also, make an Advent wreath: The best thing about an Advent wreath is it makes a huge impression on minds and hearts without costing much money. The one I make each year with my kids consists of clippings from the shrubs in our yard. We lay the greenery in a circle on a pizza pan covered in tin foil and top it with four votive candles from the Dollar Store – three purple candles to be lit on the Sundays leading up to Christmas, as well as a pink candle for Gaudete Sunday, the third Sunday of Advent and a day that means "rejoice" – Advent is almost over; Christmas is almost here!
After dinner and before bedtime, we gather around the wreath which sits on our living room table. We light a candle – adding a new one each Sunday of the month – and we follow a simple guideline such as this one for evening prayer. With no lights on in the room except the flickering candles, the kids sit in rapt attention. The wonder in their eyes is awesome, so much so, we find reasons long after Advent to keep lighting candles during prayer time.
Finally, get to daily Mass: Even if you can only make it once in addition to your regular Sunday participation, hitting a daily Mass (or a couple of them) is a great way to mark the season, to set it apart and to prepare your heart for Jesus. Occasionally, I'll corral my traveling circus of seven small sons for such an endeavor, thinking I must be insane for attempting such a feat without my husband's help. I'm always met, especially during Advent, with a super short Mass (daily Masses often are), a meaningful message, and a warm, festively decorated church.
So whether it be building a straw manger, or lighting a candle each night in prayer with your family, or meeting Jesus in the Eucharist as much as you can in the next few weeks, celebrating Advent is the way to ensure that Christmas won't take you by surprise. Even if you've never celebrated it before, bringing the traditions of Advent into your home can be as simple as turning off the TV, lighting a candle and saying a prayer.