"I want to be a light shining for acceptance."
When Mikayla Holmgren, a 22-year-old student at Bethel University, received her invitation to compete in the Miss Minnesota USA Pageant, she knew she had to accept. Having been dancing since the age of six, Mikayla was crowned Minnesota Junior Miss Amazing in 2015, and now she's making headlines as the first woman with Down Syndrome to compete in Miss Minnesota USA.
Mikayla was awarded the Spirit of Miss USA Award and the Director's Award at the pageant. She told CBS, "I'm just really excited it's out in the world, and people are going to know about it."
But Mikayla is far from finished yet. In the future she hopes to continue dancing, to teach young children, and to use her voice to advocate for others. On her Facebook page in October she wrote:
"I hope to continue dancing. I want to teach art to young children. And would love to model. I want to live independently and continue to be an advocate for inclusion. I want to be a light shining for acceptance."
May that light reach every corner of the world.


Read more:
Dad writes super-hero comic book inspired by son who has Down syndrome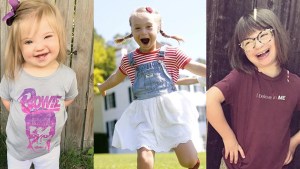 Read more:
These Instagram accounts show another side of living with Down syndrome