St. Genesius was an actor and comedian who initially mocked Christians through his plays.
Need an idea for Lenten almsgiving?
Help us spread faith on the internet. Would you consider donating just $10, so we can continue creating free, uplifting content?
Make a Lenten donation here
Survival in Hollywood or any form of popular entertainment is never easy. It is a difficult art to perfect with many other people who have the same dreams of success. However, what may be the hardest act to perform is keeping your soul directed towards God in the midst of it all.
What is true now, was also true back in the days of Rome.
During the 3rd century there was an actor named Genesius who had a devilish inspiration. He heard of the new persecution of Christians by the Emperor Diocletian and decided to further mock the Christians with a play. To fulfill his ambitious plan he had to do one thing: trick the Christians to catechize him.
Being a good actor he was successful and enrolled as a catechumen with the intention of learning about Christianity so that he could mock it.
After learning about Baptism he quickly gathered his troupe of actors and went to perform his new idea in front of an audience that included the emperor. Up to this point Genesius was still intent on mocking the Christians, but the figure of Jesus remained in his mind and he couldn't dismiss it.
During the play an actor performed a mock-baptism over Genesius and unexpectedly, Genesius was overcome with God's grace as the water poured over him and he saw the truth of Christianity. He even turned to the emperor and boldly called him to faith in Christ.
I came here today to please an earthly Emperor but what I have done is to please a heavenly King. I came here to give you laughter, but what I have done is to give joy to God and his angels. From this moment on, believe me, I will never mock these great mysteries again. I now know that the Lord Jesus Christ is the true God, the Light, the Truth and the Mercy of all who have received his gift of baptism. O great Emperor, believe in these mysteries! I will teach you, and you will know the Lord Jesus Christ is the true God.
This act of faith before the emperor led to his martyrdom, and later St. Genesius was regarded as the patron saint of actors.
Here is a novena prayer to St. Genesius, promoted by the Fraternity of St. Genesius, which has as its mission, "Praying for those involved in cinema and theatre."
Holy St. Genesius, martyr for Christ, by the grace of the Holy Spirit through your acting you came to discover the truth of the Christian faith. In your first profession of that faith you were baptized through the shedding of your blood, offering your life for the praise and glory of our Lord Jesus Christ. Pray for those who dedicate their lives to the theatrical and cinematic arts. Like you may they find the presence of the Lord in their work and generously open their hearts to his teaching, living it in the midst of the challenges and demands of their calling. In this novena, I remember most especially…., commending him/her to your care.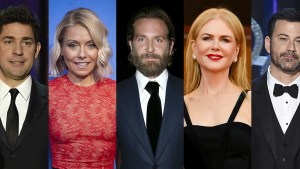 Read more:
5 Celebrities you may not have known are Catholic