The St. Andrew's cross has a rich history dating to a legendary event in the 9th century.
Need an idea for Lenten almsgiving?
Help us spread faith on the internet. Would you consider donating just $10, so we can continue creating free, uplifting content?
Make a Lenten donation here
Little is known about the life of St. Andrew, brother of St. Peter the Apostle. There is a popular story that says he was martyred near the Greek city of Patras and, not feeling worthy of a crucifixion like Jesus, asked to be bound to a cross in the shape of an X. About 300 years later his relics were moved to Constantinople by Constantine II, but one monk sought to preserve Andrew's relics and took them to the edge of the known world.
St. Regulus was warned in a dream about the pending transfer of Andrew's remains and was instructed by an angel to take them "to the ends of the earth." The Greek monk was able to take some of Andrew's bones and fled the city. He eventually made his way to the Atlantic ocean and boarded a ship to take him further. Regulus' ship was caught in a storm and couldn't go any further, crashing near a settlement on the coast of Scotland. The relics were housed in a church that eventually became St. Andrew's Cathedral and a major center of the Catholic Church in Scotland.
A few hundred years later in 832, King Óengus II led his Pictish army into a battle where the odds were stacked highly against him. Before the pending doom, Óengus prayed to God for help and looking up into the sky, saw the clouds form a white diagonal cross against the blue backdrop. Seeing it as a sign from God, Óengus pledged to make St. Andrew the patron saint of his realm after winning the battle.
His army was victorious and he fulfilled his promise. Later when the Scots and Picts were united they chose St. Andrew as the patron saint of Scotland.
Ever since St. Andrew has been deeply tied to Scotland and his cross remains on the national flag.


Read more:
How St. Columba Brought Catholicism and Civilization to Scotland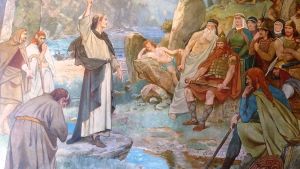 Read more:
Archaeologists find the cell of St. Columba, one of the "Twelve Apostles of Ireland"