Less laundry is one good reason ... need we say more?
Need an idea for Lenten almsgiving?
Help us spread faith on the internet. Would you consider donating just $10, so we can continue creating free, uplifting content?
Make a Lenten donation here
It's the Sunday after Thanksgiving break, and I'm staring down Mt. Laundry. My kids' hampers were dutifully brought to me this morning, as they are each Sunday, and I gasped in audible horror.
"Why are they so … overflowing?" I asked helplessly. "I washed your clothes from the beginning of the week on Wednesday!"
They looked at each other and then back at me and shrugged. "Okay, guys," I warned them, "this is going to be a long afternoon of folding."
They sighed and moaned and grudgingly acquiesced as I sorted through the first load. I began to realize that I was seeing a lot of clothes that looked familiar — like, clothes that had been worn yesterday. In fact, several different outfits that had been worn by each child yesterday. And the day before. And the day before that. And it hit me — the laundry was out of control because on Thanksgiving break, they didn't wear their uniforms. Instead, they wore 10 outfits a day for no apparent reason.
Sorting through my own laundry, I found much the same thing. Instead of the one outfit that I usually dress in at the beginning of the day, I had workout clothes from each day, clothes I wore later, and jeans I tried on three times and tossed on the ground. The disruption in our routine hadn't just messed with the kids' clothes consumption, it had messed with mine as well.
This is why I'm a huge fan of uniforms, and not just for the kids. For daily life, several copies of one standard outfit would just make life so much easier. Forbes even wrote an article about it, mentioning the billionaire who was notorious for wearing the same thing every day.
There are various examples of famous people who've adopted a minimal wardrobe and there are good reasons why successful people are choosing to wear the same thing every day. Steve Jobs might be the most iconic of them all. At presentations, conferences, and pressers, he could be seen wearing his black turtleneck, blue jeans, and circular eyeglasses. He wasn't successful because he wore the same outfit at all these events, but for an exceptionally busy person, this was one less decision.

By wearing the same thing every day, you'll better realize what's most important to you. And you'll quickly discover it's not the clothes you are wearing.
I like the idea of having a uniform for life, and not just my standard tank-top-and-yoga-pants ensemble. I like the idea of having one outfit that works on all levels — in the kitchen, at a parent-teacher conference, and in the mythical workplace I never visit.
I think the most appealing part of this idea isn't actually the minimal laundry and ease of closet organization, though. I think it's the idea of finding one style that really works for you, that you love so much that you can wear it every day without getting bored, and without looking anything less than put-together.
And for moms of littles the added bonus is that if you sit in peanut butter, you don't have rifle through your closet for a whole new outfit. You'll always have an extra top or pair of pants that matches, ready and waiting. That alone makes it worth a try!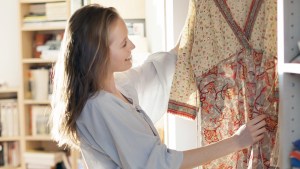 Read more:
4 Ways to come up with a functional and fabulous everyday "uniform"