Someone in need might be right in front of you.
Need an idea for Lenten almsgiving?
Help us spread faith on the internet. Would you consider donating just $10, so we can continue creating free, uplifting content?
Make a Lenten donation here
According to the National Institutes of Health, "Over the past 15 years, the total suicide rate has increased 24 percent from 10.5 to 13.0 per 100,000," people. In 2015, the last year for which statistics are available, an average of 121 people committed suicide per day in the US. In the age range of 15-34, suicide is the second leading cause of death (accidental injury is the first), and there were more than twice as many suicides as murders. Men are approximately four times more likely than women to commit suicide.
Suicide is one of the leading causes of death worldwide.
For a long time, due to social taboos and prejudice, this very serious topic was rarely discussed in public. The World Health Organization is encouraging countries to invest more in public policies aimed at raising awareness among their populations regarding the signs that someone might try to commit suicide.
These six signs can help identify someone at risk of committing suicide. Noticing and taking action can help save their lives.
1. Behaviors that reflect intense suffering
Obsessive thoughts, lamentations that life is meaningless, despair, inability to change, lack of energy for basic tasks, spending excessive time in bed, difficulty in making decisions that previously were made regularly, and loss of interest in activities that were formerly pleasurable — these are all warning signs. If you know someone with these symptoms, talk with them compassionately as a friend, showing that you are there for them and are empathetic. Help them seek professional help. These signs coincide with various indicators of depression, an illness that is more and more common and that requires serious attention. They don't necessarily indicate suicidal tendencies, but they could, so they should not be disregarded.
2. Drastic mood swings
It's natural for our mood to change throughout the day: you can feel great one moment, and then suddenly get very angry or sad, as a reaction to events. But there are people whose mood swings are extreme, impulsive, and frequent. Pay attention to sudden and exaggerated changes — in case of emergency, don't hesitate to call a mental health care professional.
These changes must be observed carefully when dealing with adolescents. Adolescence is a period in which changes in behavior are common and, precisely for this reason, their seriousness runs the risk of going unnoticed. If an adolescent locks himself in his room and doesn't want to talk to anyone or doesn't know how to express his suffering clearly, try to listen to him without judging, and be compassionate and friendly. If it becomes too difficult to communicate, seek specialized help.
3. Extremely difficult or traumatic events
Very painful events or experiences, especially when unexpected, can have a strong negative impact: the death of a loved one, losing an important and well-paid job, getting a serious illness, cases of intense bullying — all of these things can be a trigger for suicide. When these events cause sudden changes in routine and lifestyle, it leaves people unsure how to adjust. It can make them leave aside things that they used to consider important. Be close to them in these circumstances and offer to take them to a good psychologist or psychiatrist.
4. Verbal warnings
A desperate person who is thinking about ending his own life usually gives signs that he is internally screaming for help. He might say things like, "I can't handle it anymore," "I want to die," "Life isn't worth all the suffering," "It would be better for everyone if I were gone," "I wish I had never been born," etc. Could it just be drama and exaggeration? Possibly. However, since it might be more, stay very attentive to these signs and to other indicators that accompany depressed, suicidal behavior. Such phrases should never be ignored. Some people think that "someone who really wants to kill himself isn't going to let people know ahead of time." That idea is false. Many people who commit suicide (though not all) gave warnings of one kind or another ahead of time. And many people who survive a suicide attempt will try again, and eventually succeed. Don't ignore the signs.
5. Psychological disorders or addictions
The risk of suicide increases when a person suffers from a psychological illness, such as clinical depression, bipolar disorder, borderline personality disorder, schizophrenia, post-traumatic stress disorder, or trauma caused by physical or sexual abuse. More than 50 percent of people who commit suicide are suffering from depression or mood disorders, including those linked to drug or alcohol dependency. Paradoxically, some prescription medications for depression can also cause suicidal thoughts in some people, so patients using them must be carefully monitored.
Be attentive to repeated irresponsible behavior, such as alcohol and drug use, reckless driving, and irresponsible sexual activity. Not everyone with these behaviors has suicidal thoughts, but even so, these indicators require special attention, guidance, and treatment; they indicate a fairly high degree of interior dissatisfaction, which cannot be ignored.
6. Sudden improvement
That's right: when someone who is very sad or depressed suddenly seems happy, there is the risk that he is planning to commit suicide. The apparent improvement can be a cover-up, or a sign of the relief the person feels for having finally made the decision to "end his misery." Also, pay attention to see if he seems to be tying up loose ends, saying goodbye to friends and family, and/or giving away prized possessions. Such sudden changes in someone who was, a short time ago, in the depths of despair should be handled very carefully. Report the situation to a doctor, and also to suicide prevention organizations, such as Lifeline (1-800-273-8255).
In all of these scenarios:
—Observe and, above all, LISTEN to the person.
—Be patient and compassionate with their anguish.
—Accompany them to their medical appointments.
—Keep the person's close family members informed.
And if the person who is considering suicide is you:
Please, give yourself another chance, and seek professional help right now. Open up about your situation! What you are feeling is treatable; there are better solutions than suicide. But you need help.
Click here for more resources on suicide.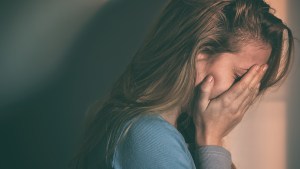 Read more:
Let's talk about suicide
Read more:
Suicide and Faith: My Story
This article was originally published in the Portuguese language edition of Aleteia, and has been translated and/or adapted here for English-speaking readers.