In Bangladesh, Francis also speaks out against those who commit violence in the name of God
Today, in the final stage of a busy day in Bangladesh, Pope Francis participated in an interfaith and ecumenical meeting for peace in the garden of the archbishop's residence in Dhaka. The Holy Father referred to the plight of the Rohingya, using the contested term by which they define themselves, but which is denied by many in Myanmar. He asked the persecuted people for forgiveness for the world's "indifference."
During the event, the Successor of Peter met three families of Rohingya refugees—16 people in total. The pope warmly greeted each one, then listened attentively, sometimes putting his hands on their shoulders. Among the refugees, one child requested the pope's blessing.
"Your situation is very difficult," he told them. "In the name of all those who have hurt you, and for the indifference of the world, I ask your forgiveness …" "We are all created in the image of God," added the pope. "Continue to help them, so that their rights may be recognized (…) Do not close our hearts. The presence of God today is also called Rohingya."
Read more:
Rohingya: The next ethnic cleansing you're not hearing about
During the meeting, each of the religious representatives—Hindu, Buddhist, Muslim, and Catholic—read an address. Some, including the Grand Mufti of Bangladesh, Maulana Farid Uddin Masud, thanked the pontiff for "his firm support for the Rohingya."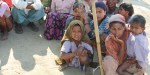 Read more:
Pope defends Rohingya Muslims ahead of Myanmar trip


In his speech to hundreds of people, the pope expressed the wish that this meeting "be a clear sign." Reaffirming that the right to religious freedom is a fundamental principle in Bangladesh, he issued a "respectful but firm" appeal to those who commit violence in the name of religion.
The pope then promoted "openness of heart," a necessary condition for a culture of harmony and peace. This spirit is, for the pope, the "beating heart" of a fight against corruption, "destructive religious ideologies," and the temptation to turn a blind eye to the needs of the poor, of refugees and of persecuted minorities.
A final ecumenical prayer was formulated by the Anglican Bishop of Dhaka, Philip Sarka. The latter, very moved, then knelt before the pope to ask his blessing.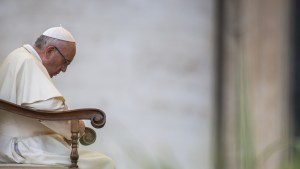 Read more:
Pope denounces "homicidal madness that abuses the name of God"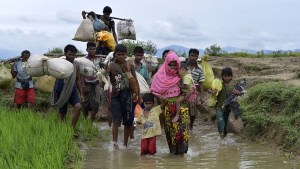 Read more:
"There is no easy solution" to the Rohingya crisis, say bishops of Myanmar