The training for it is similar to sports and other physical challenges.
Need an idea for Lenten almsgiving?
Help us spread faith on the internet. Would you consider donating just $10, so we can continue creating free, uplifting content?
Make a Lenten donation here
When you think of resilience, what image comes to mind? A mountain, strong and inflexible? A rubber band that can be stretched but snaps back, unbroken?
Most people tend to think of resilience as the quality of being able to get through hard times unscathed, but that's not what resilience is. Resilience is the ability to adapt to trauma, tragedy, and stress without being broken by them. And it's not an inborn quality — it's something that can be (and often is) learned.
A recent article in the Washington Post looked at several studies done of children who had faced childhood trauma and overcome it, and found that " resilience is an ongoing battle, a way of approaching life, not a restorative bounce." And it isn't just a skill that children learn, either — one study found that political prisoners who had been tortured were more likely to suffer from PTSD if they gave up fighting internally as well as externally. The prisoners who remained defiant in their own minds, even if they complied externally, were far less likely to suffer from PTSD. That's because resilience is a kind of toughness that can be learned through practice.
Coping with stress is a lot like exercise: We become stronger with practice. University of Nebraska psychologist Richard Dienstbier explains how this works with his "toughness model," first published in 1989 in the journal Psychological Review.

Dr. Dienstbier gathered evidence from a wide range of human and animal studies demonstrating that exposure to intermittent stressors, such as cold temperatures and aerobic exercise, made individuals physiologically "tougher." They became less overwhelmed by subsequent difficulties, and by their own fight-or-flight arousal. This makes a difference because when a stressor seems manageable, we perceive it as a challenge, and adrenaline — which boosts energy, focus and coping — is released. When a stressor seems unmanageable, however, we perceive it as a threat and our cortisol levels rise too, suppressing our immune system and making us more vulnerable to disease.

What's more, Dr. Dienstbier wrote, toughened individuals increasingly seek out experiences that stimulate them and provide opportunities for more mastery and success. It is a virtuous circle.
When I think of resilience, I think of one of my daughter's taekwondo tournaments. She went in with a sprained wrist that got kicked halfway through, and tears started pouring down her face. She wanted to quit. For a few seconds she let herself give up and dropped her guard, which got her a swift kick to the nose.
She didn't stop crying — in fact, the tears came faster. But the defeat in her eyes gave way to anger, and she started fighting again. She went from "flight" to "fight" and won.
I've seen kids in the ring who can't get past their own fight-or-flight response. They try to run, but are penned in by the boundaries and the refs. Running from a fight is a penalty in sparring. You can lose a match that way, but the real danger is getting hurt. If you can't run and you don't fight, you're in trouble.
The hardest part of learning to fight is overcoming yourself. You have to sit with the nausea and fear and adrenaline fog and learn how to let your fight-or-flight response work for you instead of against you. It's by far the most difficult part of sparring, the part most kids (and adults) find too overwhelming.
So with life. The trauma and stress of life can be overwhelming, but you can choose not to let yourself be overwhelmed. You can train for life the same way fighters train — by finding experiences that will challenge and stimulate you and mastering them. Whether that's a 3-mile run or a class at the local college, choose the challenge that's right for you and believe that you can succeed. Then keep going, every day, until you have succeeded.
But you can't stop with one. Find something new after that. Keep seeking, keep trying, keep fighting. That's resilience training.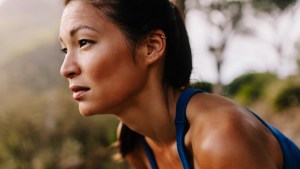 Read more:
The best-kept secrets of resilient people