Tree and crib scene will be inaugurated on December 7, vigil of the Feast of the Immaculate Conception.
On Thursday, the giant fir tree and Nativity scene that will decorate St. Peter's Square during the holiday will be inaugurated.
The 92-foot tree was brought from Poland, donated by the northeastern Archdiocese of Elk.
The crib scene for Christmas 2017 is donated by the ancient Abbey of Montevergine in the Campania region of southern Italy. The scenery and crib figures, in 18th-century Neapolitan costumes, will be produced by artisans in a local workshop. The 6.5-foot figures, inspired by the theme of the Works of Mercy, will be made of colored terracotta with garments in traditional fabrics.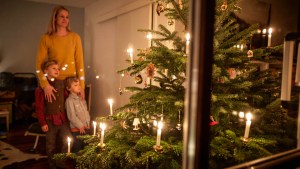 Read more:
How to bless a Christmas tree
The tree will be decorated with stars and baubles designed by young cancer patients from several Italian hospitals. The decorations have been made out of clay by children and their parents during therapeutic workshop sessions and reproduced in synthetic materials that can withstand the winter weather conditions in St Peter's Square. A number of children from the earthquake-hit areas of central Italy have also taken part in this design project.
On the morning of December 7, some of the young artists, together with delegations from Poland and from the Campania region, will meet with Pope Francis, ahead of the official inauguration and lighting ceremony at 4:30 p.m.
Both the tree and the crib scene will remain in St Peter's Square until the evening of Sunday January 7, 2018, as the Church marks the end of the Christmas season with the feast of Our Lord's Baptism.