And were candy canes meant to be a Christian symbol?
One of the most popular sweets during the Christmas season is the iconic candy cane. The red and white sugar stick is everywhere during the month of December and many claim that its symbolism is entirely Christian in origin.
Is that true?
Hard sugar sticks have been a popular Christmas treat for the past several hundred years and trace their origin back to Germany. At first these sticks were used as another ornament on the Christmas tree. Then in 1670, according to a popular story, the choirmaster at the Cologne Cathedral wanted something different for the rambunctious children who couldn't sit still during a live reenactment of a Nativity scene. He asked a candy maker to make a crook onto the end of the sugar sticks so that the children watching the reenactment could be visually reminded of the shepherds on Christmas while they munched on their candy.
Unfortunately the story doesn't have much credibility, as it is unlikely that candy would be passed out during a religious event inside a church. There is also little evidence outside this one story that it ever happened.
At the same time, it is true that candy sticks with crooks at the end of them were distributed in this region of Germany. It is believed that the crook was developed so that the candy cane could be easily hung on the tree.
This same tradition was brought to the United States by German immigrants, but initially these candy canes were white in color.
Then around 1920 Bob McCormack started making these candies and because of their popularity, started his own business. His brother-in-law was a Catholic priest, but also an inventor, and he devised an easier way to create the curved candy canes. It became known as the Keller Machine after the priest who invented it, Fr. Gregory Keller.
Around this time the candy cane was striped in red and white, though it is uncertain who made the initial switch. Some still claim that there is much symbolism in the candy cane, as ThoughtCo reports.
It has been claimed that the cane was shaped like a "J" for "Jesus" and that the red-and-white stripes represented Christ's blood and purity. The three red stripes were also said to symbolize the Holy Trinity and the hardness of the candy represented the Church's foundation on solid rock. As for the candy cane's peppermint flavor, it represented the use of hyssop, an herb referred to in the Old Testament.
This spiritual explanation of the candy cane appears to have been developed after the Christmas treat grew in popularity and doesn't have direct ties to its origin.
In the end, while the invention of the candy cane is not entirely wrapped in spiritual symbolism, it has always been deeply connected to the Christian celebration of Christmas.
Read more:
The medieval and Catholic origins of your pizza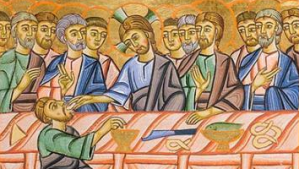 Read more:
Pretzels are 1400 Years Old