Pope Francis comments on new French translation of the Our Father
Pope Francis referred to the newly approved French translation of the Our Father in an extract of an interview about this prayer, published by the Italian Catholic network TV2000 on YouTube on Monday. It is not God but Satan who tempts us, he explained.
To say that God "leads" us into temptation is "not a good translation" of the prayer taught by Christ, the pope said. It is for this reason, he continued, that the French liturgical translation has been changed to ask the Lord "not to let me fall."
Starting this past December 3, 2017, French Catholics pray that God will not let them "enter into" temptation, whereas before, "submit to" temptation was the expression used.
Peter's Successor insisted that God "does not push us toward temptation" to then observe how we fall. The one who does that "is Satan," the pope said firmly. On the contrary, "like a Father," God "immediately" helps those who have fallen to get back up.
The new French translation of the Our Father went into effect on December 3, the first Sunday of Advent and of the liturgical year. This translation has been adopted in coordination with other Christian denominations and other French-speaking episcopal conferences. In Switzerland, for example, the change is scheduled to go into effect on Easter 2018.
This interview, part of a collaboration between the Secretariat for Communication of the Holy See and the TV2000 television network, was carried out by Fr. Marco Pozza, who is also the chaplain of a maximum security prison in Padua.
The series is broadcast every Wednesday evening at 9 pm, and will consist of nine episodes. Each episode of the show is introduced by an excerpt from an interview with the pontiff.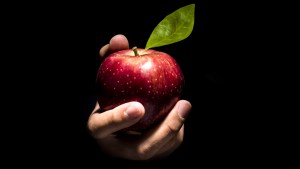 Read more:
"Lead us not into temptation": Wait, what? We have to tell God not to do that?