Hint: There's no snow where St. Nicholas lived.
You can get Aleteia inspiration and news in your inbox. Our specially curated newsletter is sent each morning. The best part? It's free.
Sign up here
St. Nicholas, the man who would later inspire the Christmas figure of Santa Claus, did not live in the North Pole. The 4th-century bishop lived in the ancient Greek city of Myra. The city is now called Demre and located in modern-day Turkey.
According to Mental Floss, "Myra [was] once among the most powerful cities in ancient Lycia, a native culture with roots going back to the Bronze Age. (Lycians took up arms alongside the Trojans in the Iliad.) In subsequent centuries the region would be invaded by Persians, captured by the Macedonian Alexander the Great, ruled by Egyptians, Hellenized by Greeks, and eventually controlled by Romans."
During the 1st century the harbor city of Myra was also a place where St. Paul stopped on his journey to Rome as a prisoner, before getting shipwrecked.
And when we had sailed across the sea which is off Cilicia and Pamphylia, we came to Myra in Lycia. (Acts 27:5)
When Nicholas was appointed bishop in the 4th century, "he had the temple of Artemis, and several others, completely destroyed. With their destruction, Nicholas turned Myra from a Lycian capital into a Christian capital."
After his death the city venerated their bishop as a saint and eventually built a church in his honor. According to Bible History Daily, as early as "the fifth century, a church dedicated to Nicholas was built in Myra" and "Over the centuries, the church was modified numerous times, especially from the ninth through 13th centuries." The church features "frescoes depicting scenes from the life of St. Nicholas … For example, the story of the gift of the dowries—when St. Nicholas secretly provided dowries for a poor man's three daughters by tossing bags of gold into the house through an open window at night—appears in the 12th-century grave room."
Even though Nicholas' relics were taken to Bari, Italy, in the 11th century, pilgrims still flock to Demre to venerate the hometown of the "wonder worker." The Orthodox celebrate a special liturgy on December 6 and icons of the saint are everywhere.
So if you really want to visit Santa Claus' hometown, don't go to the North Pole. His legacy lives on in a small city in Turkey near the Mediterranean Sea.
Read more:
Turkish town where St. Nicholas gave gifts is pilgrimage site for Russians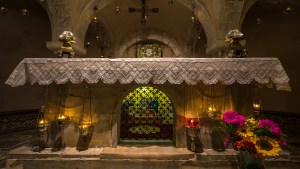 Read more:
The bones of St. Nicholas still exude a mysterious oil, with a mixed reputation