Fr. Kyle Schnippel, the first priest to appear on the show, has taken his hobby to new heights.
You can get Aleteia inspiration and news in your inbox. Our specially curated newsletter is sent each morning. The best part? It's free.
Sign up here
Fr. Kyle Schnippel's Instagram is not what you might expect to find when stumbling upon the pastor's social media account. Photos of homemade Linzer cookies, chocolate lava cakes, rugelach, and other exotic-looking pastries dominate the squares in between occasional images of books, churches, and assorted liturgical objects. Yes, Fr. Schnippel loves to bake … and this is one church where you probably don't want to miss the coffee hour after Mass!
His passion for the kitchen developed about seven years ago, when Schnippel, pastor of St. John Neumann and Corpus Christi Catholic churches in Cincinnati, took a home-brewing course at a local brewery, Listermann Brewing. He says this led him on the path to taking up baking two years ago.
It's a path that has recently taken him to an audience that's a lot bigger than the one he greets every Sunday in church. Schnippel was selected to be a contestant on The Great American Baking Show (the US offshoot of The Great British Bake Off), which premieres its third season tonight (December 7) from 9-11 p.m. on ABC.
The season runs for three weeks. Each episode of the show features the same group of bakers vying for the title "America's Best Amateur Baker" through a series of cooking contests that get progressively harder as the bake-off continues and contestants are weeded out, culminating in a final match for the big title. The show is hosted by New York Times best-selling cookbook author Ayesha Curry and former NHL star turned TV personality Anthony "Spice" Adams, and judged by Paul Hollywood (from The Great British Bake Off) and James Beard Award-winning pastry chef and cookbook author Johnny Iuzzini.
Just how does a busy priest who is in charge of two churches find the time to be on a reality show? The filming schedule required Schnippel be away for six weeks.
"I'm going away for an important evangelization project," Schnippel told his parishioners, prompting rumors that he was sick and other strange theories, as he relayed the story to The Catholic Digest. Of course, he first got approval from his archbishop, and his secretaries were in on the secret, which helped him get coverage for Masses.
He also wrote a prayer and asked church members to pray for him while he was gone. The prayer used a lot of baking terms as clues, but no one seemed to catch on!
Check out this trailer of Season 3 The Great American Baking Show and you will see a sneak peek of one of the judges commenting on Fr. Schippel's green and red frosted pastry: "These look more like coffins." (Do you think that judge realized the irony there?)
As a bonus, Fr. Schnippel is partnering with the brewery to make a Cinnamon Roll Stout, inspired by one of his creations on the show.
"There is nothing better than relaxing, sitting around a large brew kettle with a group of friends and chatting about theology, the Church, Reds baseball, or whatever current events fill the news," Fr. Schnippel says on his website. "And sharing the fruits of that labor with others, well, that's just the icing on the cake."
Of course, you'll have to watch to see if Fr. Schnippel's "coffins" make it to the next round. He's not telling what happened on any of his social media, of course, but he is scheduling watch parties for his parishioners on the nights of the show.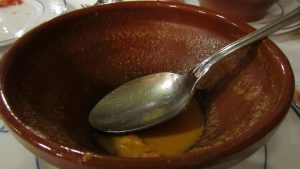 Read more:
This priest not only feeds the homeless, he does so in style