Too weak to do something myself, I told God to do it. And then, I had this dream ...
You can get Aleteia inspiration and news in your inbox. Our specially curated newsletter is sent each morning. The best part? It's free.
Sign up here
A few years back, I was really struggling to get to confession. The latest of my numerous attempts to space births with NFP had failed, leading to a miscarriage with complications that left me bed-ridden for weeks. My husband was adamant that we were not going to try that again. I felt some weird combination of trapped, ashamed, and angry at the Church for demanding something of me that I was just plain terrible at.
And I was coming up on a year since I had last been to confession.
I knew I needed to go, but I couldn't make myself do it. My faith was already faltering. Prayer was difficult. I could only just barely force myself to sit through Mass every week. I was trying to persevere and trust that somehow I would work out a way to resolve things, but it was a daily struggle not to just throw in the towel and publicly declare myself to be an atheist.
The added burden of also having to go and confess all of this to a priest just seemed like the stick that would send the whole thing crashing to the ground. What if I got a terrible confessor? What if I got one of those guys who seems to take pleasure in shaming his penitents? Or one of the ones who has a weird obsession with sexual sin and who ignores pretty much everything else?
I felt like my faith wouldn't be able to take it.
So I was scared to go.
It was easy, too, to put it off. When I had lived in Toronto, opportunities to go to confession were a dime a dozen. There, I could just wait until I happened to have some courage going spare and immediately head down to the Oratory, where the booth seems to be more or less continuously manned.
I don't live there anymore. In my rural home, there are exactly four parishes within reasonable driving distance and they share two priests between them. Confessions are heard in the half-hour before Mass on Sunday – when I am invariably engaged in running about doing last-minute diaper changes and trying to find enough shoes and clean clothing to make my children vaguely presentable.
Week after week, I told myself that this Sunday we would get ready early. This Sunday I would find a way to leave the toddler at home so I would be able to make my confession in peace. This Sunday, I would be able to receive the Eucharist again.
And week after week I corralled my gaggle of children into the church just in time to catch the tail end of the first reading.
Finally, I admitted to myself that I was not going to make this happen. I sat down and I explained the situation to God. "I'm angry," I said, "and I'm upset. I want to reconcile with the Church, but my faith is so weak right now. I don't have the strength to do this. So I'm asking for help. Find some way to make this easy."
After praying like this for a while, I had a dream. I dreamt that I was just sitting there in the pews, when a priest approached me from out of nowhere; suddenly the entire church was full of priests giving people the Sacrament of Absolution. I made the kind of rambling, nonsensical confession that anyone would make in the Land of Nod, then some completely different plot having to do with eggs intruded.
I woke up feeling oddly conflicted. On the one hand, it seemed like the dream might be a form of grace. On the other, it didn't count. I still needed to go to an actual priest in waking life.
I'm a knee-jerk skeptic, so I certainly didn't expect this dream to come true. But just two days later we heard the dogs barking out in the yard, and saw a car heading up the driveway. We weren't expecting visitors.
It was my spiritual director.
Now, just to clarify, I live in Ontario, more or less in the middle of nowhere. My director lives in Ohio. He just happened to be driving past on his way to visit some friends in Ottawa, and he decided to stop by.
He spent a while teaching our kids to fence, helped chop some wood, and then prepared to get back on the road.
As he was leaving, I asked if he had time to hear my confession.
He did. God made my dream come true. No eggs, but it came true in the most important way. He heard my confession, and the angst was over, easy.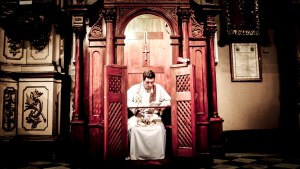 Read more:
How to go to confession, a step-by-step guide