Is it possible Jesus was born "Before Christ"?
By the 6th century there developed a method of counting calendar years that took Jesus' birth as the starting point. The years prior to Jesus' birth became known as "a.C.n.", which was an abbreviation of ante Christum natum (Latin for "before the birth of Christ"). Later this abbreviation was translated to English and was shortened to "B.C."
On the flip side, the year of Christ's birth (year "1") and onward became known as anno Domini nostri Jesu Christi (Latin for "in the year of our Lord Jesus Christ") and become more widely known as "A.D." According to this dating system Jesus was born in 1 A.D.
However, recent scholars have discovered that the date of Jesus' birth does not match up with current historical data.
According to biblical accounts, "Jesus was born in Bethlehem of Judea in the days of Herod the king" (Matthew 2:1). This is a very specific point of information and places Jesus' birth in a wider historical context.
The first century historian Josephus records that there was an  "eclipse of the moon just before Herod passed on … [and he] tells us that Herod expired just before Passover. This feast took place on April 11th, in the same year, 4 B.C. From other details supplied by Josephus, we can pinpoint Herod the Great's demise as occurring between March 29th and April 4th in 4 B.C." With this data in mind, most biblical scholars say that Jesus was born in 4 B.C.
The reason behind the discrepancy of the calendar is because the calculation took place several centuries after Jesus' birth. Simply put, the monk behind it all (Dionysius) had limited knowledge and was off by 4 years.
On the other hand, some historians say the eclipse in 4 B.C. "was visible only very late that night in Judea and was additionally a minor and only partial eclipse. There were no lunar eclipses visible in Judea thereafter until two occurred in the year 1 B.C. Of these two, the one on December 29, just two days before the change of eras, gets my vote since it was the one most likely to be seen and remembered. That then dates the death of Herod the Great into the first year of the current era, four years after the usual date." According to this theory, Jesus' birth falls immediately before the traditional date of his birth in 1 A.D. (there has never been a "zero" year between the two).
For these reasons most biblical scholars and historians agree that Jesus was born between 4 – 1 B.C. While it may seem strange to say that Jesus was born "Before Christ," it is simply a matter of human error. However, if 1 B.C. is ever confirmed to be the correct date of Jesus' birth, Dionysius was only off by one year. Not bad for a 6th-century monk without the use of computers!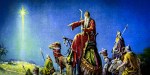 Read more:
When was the first Christmas?