It was a unanimous decision and connected to the brief history of the new country.
Each country adopts a set of patron saints, members of the heavenly court who are special intercessors for all those within a particular country's borders. It took the bishops of the newly created United States of America 70 years to appoint the Blessed Virgin Mary as patroness of their country. In doing so, they invoked Mary under her title of Our Lady of the Immaculate Conception.
It was a choice met with unanimous support, one that was based on many different factors.
The decision was reached on May 13, 1846, during the Sixth Provincial Council of Baltimore.
With enthusiastic acclaim and with unanimous approval and consent, the Fathers [of the Council] have chosen the Blessed Virgin Mary, conceived without sin, as the Patroness of the United States of America.
According to various documents, the choice was made "to gratify a pious desire pervading the whole United States." A few years later in 1849 the bishops affirmed the devotion of the faithful and explained to "the Holy Father that the faithful in the United States were animated with a great devotion to the Immaculate Conception, and that they the bishops, would be pleased if the Holy Father declared the doctrine of the Immaculate Conception an article of faith."
This particular title of Our Lady was very familiar to the people of the United States. Some historians believe that the flagship of Christopher Columbus was named Santa Maria de Concepcion and he afterwards named an island La Concepcion. Subsequent geographic features in America would be named in honor of Our Lady of the Immaculate Conception.
Not long after the United States made this decision, Pope Pius IX promulgated on December 8, 1854 that "the most Blessed Virgin Mary, in the first instance of her conception, by a singular grace and privilege granted by Almighty God, in view of the merits of Jesus Christ, the Savior of the human race, was preserved free from all stain of original sin." This was a confirmation of a long-held belief in the Catholic Church that is based on various passages in the Bible.
Four years later in 1858 a young peasant girl in France had several apparitions of the Blessed Virgin Mary, who reveled herself as the "Immaculate Conception." A large church was eventually built on that site and ever since, Lourdes has been a popular destination for pilgrims everywhere.
In light of all these events around the world one could say that the 19th century was the "Century of the Immaculate."
Since then hundreds of churches in the United States have been named after the Immaculate Conception and in 1959 the largest church in the United States was opened in Washington D.C., also dedicated to Mary's Immaculate Conception.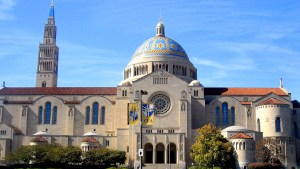 Read more:
What's the biggest Catholic church in the United States?