I realized that I was making a mistake in my Advent-ing.
As it is written in Isaiah the prophet: Behold, I am sending my messenger ahead of you; he will prepare your way. A voice of one crying out in the desert: "Prepare the way of the Lord, make straight his paths." John the Baptist appeared in the desert proclaiming a baptism of repentance for the forgiveness of sins. —Mark 1:2-4
Advent is a complicated season. I'm tempted to say that this is the most complicated season of the Church Year. Advent presumes that we Christians have been formed in an adult faith that is prepared to celebrate an adult Christmas. And, as we know, Advent isn't a season that is focused only on the past, because this is the time we focus our attention on One who is among us right now and who will come in glory in the future.
Although Advent is a season of hope, hope seems to be in short supply these days. So, as I was reflecting on this Sunday's readings, I thought about what hope might mean for our Church and the world.
As I've reflected, I realized that I was making a mistake in my Advent-ing. I am guilty of hoping for something. I hope for justice. I hope for peace. I hope for equality and an end to poverty and oppression. Surely these are good and worthy and Christian hopes. But that isn't Advent hoping.
So, if Advent isn't about hoping for, then what is it?

Advent is about hoping in. Specifically, it is about hoping in the power of God and having the courage to trust that all things can be set right and that justice will prevail. This is why we hear Isaiah crying out, "Comfort, give comfort to my people, says your God. Speak tenderly to Jerusalem and proclaim to her that her service is at an end, her guilt is expiated … Here comes with power the Lord God, who rules by his strong arm; here is his reward with him, his recompense before him" (40:1-2, 10).  Through Isaiah, God promises to act with and for his people.
The liturgy is reminding us that we can't save the world. Only God can bring justice to birth in individual hearts and minds. It is this birth for which we wait and pray during these Advent days.   
In our Gospel, Mark recalls Isaiah's promises by associating that prophet of the Old Covenant with the great prophet of the New—John the Baptist. But John expands on Isaiah's vision and message, calling us to away from sin and all-too-human preferences and agendas toward the ways of God. Mark tells us, "This is what John proclaimed: 'One mightier than I is coming after me. I am not worthy to stoop and loosen the thongs of his sandals. I have baptized you with water; he will baptize you with the Holy Spirit'" (1:8). John is a fiery prophet, but his message for us in these Advent days is clear: preparing the way for the Lord requires constant effort. This is the time we've been given and we are expected to do something with it (see 2 Peter 8:3-14, the Second Reading).
John's call for conversion is where our Advent hoping in and our day-to-day lives intersect. Our adult Advent becomes a season of discipleship.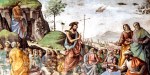 Read more:
John the Baptist vs. Jesus on the Kingdom coming


In the end, we wait in faith, hoping in the One who has the power and the love necessary to renew all of creation. To "prepare the way of the Lord" means living out the call to conversion and discipleship to which we recommit ourselves every time we attentively listen to God's Word, receive the Eucharist, or mark ourselves with the Sign of the Cross. Because we're disciples we hope (and work!) for, but our hope must always be grounded in.
So, going into the Second Week of Advent, I'll try to remember that this season isn't about me and what I want … hope for … for myself, or for the Church, or for the world. This season is about what God wants for me—for all of us—and what God is bringing to birth in all of creation.
What brings you comfort in your life? To whom are you being called to offer a comforting word in these Advent days?

How are your trust and hope in God reflected in the choices you make each day?

How do the words of Isaiah and John the Baptist inspire you to action and service?
Words of Wisdom: "O God who is to come, grant me the grace to live now, in the hour of your Advent, in such a way that I may merit to live in your forever, the blissful hour of your eternity."—Karl Rahner, Encounters With Silence
~
Aleteia is bringing you reflections — Advent Light — for each day of this 2017 liturgical season. Follow the series here.