The popular Christmas plant has a deep spiritual story behind it.
Poinsettias are one of the most popular plants during the Christmas season and can often be seen filling the sanctuary of churches everywhere. Surprisingly, there is a beautiful story behind this plant that points to a deeper spiritual reality.
Poinsettias are native to Central America and are a plant that flowers in the winter months. There is a legendary Mexican story from the 17th century about this plant that connects it to Christmas.
As Christmas drew near a poor Mexican girl was sad because she didn't have anything to give to the baby Jesus. Her cousin tried to cheer her up and encouraged her to give even the smallest gift with great love.
Not knowing what to do, the poor girl gathered some weeds along the roadside and put them in a bouquet. She approached the nativity scene, slightly embarrassed, but confident that she was giving Jesus the best that she could give. After she placed them in front of the manger the weeds transformed into a beautiful red poinsettia and were later known as "Flowers of the Holy Night."
The star-shapped leaves were explained to represent the Star of Bethlehem and the red color was connected to the blood of Jesus' sacrifice. Franciscan friars in Mexico began using the poinsettias in Nativity processions and over time the plant was introduced into the United States. Since then it has become a staple of Christmas decorations both in churches and homes.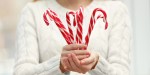 Read more:
Where did candy canes come from?