The martyr who died in Italy became the most popular saint of the North.
During the 3rd century a girl named Lucy (Lucia in Latin) was born to noble parents. At an early age Lucy dedicated her virginity to Christ, but her mother was not aware of it and arranged to have her married.
Lucy refused on account of her private vow and the man she was supposed to marry turned her in on account of being a Christian. This led to a gruesome martyrdom, where her eyes were gouged out prior to being killed. She died in Sicily, but her fame soon spread throughout Europe. When Christian missionaries reached Scandinavia they brought the story of St. Lucy with them and her life and death fascinated the local population.
Her name is derived from the Latin word lux, meaning "light," and there was another story from her life that said she wore a crown of candles to help her see in the Christian catacombs.
Lucy's connection to light resonated with the Scandinavian people who celebrated the Winter Solstice (the darkest day of the year) near the time of her feast day, December 13. She was a light in a dark place and her faithful example enlightened their hearts and minds for many centuries after.
Many ancient songs from Sweden highlight this symbolism, such as this one.
The night treads heavily
around yards and dwellings
In places unreached by sun,
the shadows brood
Into our dark house she comes,
bearing lighted candles,
Saint Lucia, Saint Lucia.
From the intense devotion surrounding St. Lucy sprang the many traditions of St. Lucy's Day. In various Scandinavian countries there developed Lussibrud, a tradition where the oldest daughter in the family wears a white dress and red sash with a crown of candles on top of her head. She wakes the family on December 13 and serves them various sweets.
St. Lucy's Day is a great feast of preparation for Christmas, one that signals the coming of the light of Christ on Christmas day.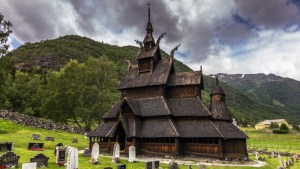 Read more:
Saints and dragons: The beauty of Scandinavian churches