It's the unspoken things that communicate to a friend or loved one that they matter tremendously to us.
Send us the names of your loved ones who are sick or suffering. The Aleteia prayer network of 550 monasteries will take them to prayer for the World Day of the Sick.
Click here to share your intentions
Psychotherapist Katherine Schafer writes about how throughout our lives, we're looking for the answers to four very specific questions. We may never ask them out loud, but they make up a wordless subtext to much of what we say. The answers we're looking for, though they will be equally wordless, are crucial, in a healthy, happy relationship. We're trying to find out:
Do you see me?
Do you care that I'm here?
Am I enough for you, or do you need me to be better in some way?
Can I tell that I'm special to you by the way that you look at me?
(Incidentally, Schafer writes that one of the reasons people love dogs so much is that they answer all four questions with an enthusiastic "yes!") So I might say, "Oh my gosh, I had a brutal day" And I do really want to tell you about the day, and get your take. But I might also be looking for confirmation that I matter to you, that you notice me, that I'm enough.
I'm not expecting you to respond to those "secret" questions directly, of course, but I'll be able to understand the answer through the way you respond to me. Obviously, if your response is dismissive or critical, or just plain mean, I'll understand that I'm not important to you. But Schafer says there's more than one way to answer these questions with a relationship-damaging "no."
What if you're just not really paying attention? What if you don't look up, or barely engage? What if you're just not really present during the conversation? That tells me the same thing — that you don't see me, that I'm not really worth the effort to you.
Relationship researcher John Gottman noticed the same thing. When a partner makes a bid for attention, it matters tremendously whether it's acknowledged. Emily Smith, after an interview with him, describes what this looks like:
Throughout the day, partners would make requests for connection, what Gottman calls "bids." For example, say that the husband is a bird enthusiast and notices a goldfinch fly across the yard. He might say to his wife, "Look at that beautiful bird outside!" He's not just commenting on the bird here: he's requesting a response from his wife — a sign of interest or support — hoping they'll connect, however momentarily, over the bird.
That response is crucial. It's not about the bird, it's about the partner's willingness to engage with the person, in effect, answering those four questions: "Yes, I see you. Yes, I care about you, yes, you are enough, and yes, you are special to me." That "yes" answer is communicated through the partner's willingness to engage the other in his bid for connection. She doesn't actually have to be interested in the bird, as long as she's responsive to her husband.
These little bids for connection happen throughout the day, every day. When they go ignored, or the person responds with minimal attention it chips away at the relationship as surely as anger and cruel words do. That's because ignoring a bid for connection isn't just a lack of response. It's a clear response, a resounding "no" to those four questions that make up the subtext of so many of our interactions.
We think that it's enough to not be irritable or unfair to the people we love, but the subtext of our words is powerful too, more powerful than we realize. I always remember my father, a carpenter and an avid sports fan, immediately turning off the radio when we opened his workshop door. That little action made so many things clear — that we were welcome there, that our company was more important than the score, that if we had something to say, he would listen. It's the little things. Eye contact, a smile when a loved one enters the room, putting your phone down during a conversation, and responding beyond the bare minimum to those little bids for attention are the most powerful way we communicate to a friend or loved one that they matter tremendously to us.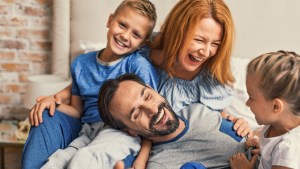 Read more:
The communication technique that can bring peace to your home