They are a "Little Choir" but with a big, beautiful mission.
While China doesn't mark Christmas as a Christian feast day, this year a group of children are able to be ambassadors of Christ's light to this country where the pope cannot (yet) go.
Pope Francis greeted the youngsters — a children's choir called the Piccolo Coro "Mariele Ventre" dell' Antoniano — on December 7.
"You sing of the authentic values of life and through song, you praise and give thanks to God for all the good that he gives us," the pope told them. "Hopefully in this time of Advent in preparation for Holy Christmas, your songs that recount the event of Jesus' birth can help those who hear them to understand the love and the wonder of what happened in Bethlehem 2,000 years ago."
The pontiff assured the choir of his appreciation of their "beautiful musical interpretations" and said that "with your songs, you masterfully and simply transmit a sensation of serenity, which is so necessary for everyone, especially for those families that are passing through suffering and difficulties."
In China, the official winter holiday is the Chinese New Year. So while globalization has ensured that the entire world is aware of Christmas, certainly not everyone celebrates it as Christ's birthday.
Yet this year, the magic of Christmas will make it to China through this Little Choir.
This is their third consecutive tour and the young musicians will perform six concerts in Shanghai from December 30 through January 2.
Included on their program are "Adoramus te (Nearer My God To Thee)" and "Forza Gesú."
This latter piece includes lyrics that can be translated:
"Each night when I pray in my little bed, I think of everything that can be seen from up above. All of the evil that we live here on earth. Every tear that reaches up there from down here … With love, so much can be done, including giving a little consolation to Jesus. Take heart, Jesus."
The Chinese public discovered the Little Choir in 2010, when fans published a YouTube video of one of their performances from Verona, Italy.
With Chinese subtitles, the video went viral, and as a result of this, the Shanghai Children International Culture Development made the invitation to the group.
The choir is also an ambassador of UNICEF.
The day the pope heard them sing, his tweet was: "We all possess God-given talents. No one can claim to be so poor that they have nothing to offer others."
See more of their videos here.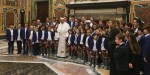 Read more:
Christmas carols might give you more than you bargain for