Celebrate the beauty of this spiritual holiday with the perfect name for your little bundle of joy.
If your baby is due around Christmas time, it's particularly fun to think about names that acknowledge this festive period and resonate with good cheer and deeper yuletide meaning. You are bringing a new baby into the world at a very special time of year and that is cause for celebration.
There are plenty of wonderful names for December babies that reflect the beauty of this spiritual holiday: joy, love, and healing. (And, of course, you'll want to find one that represents something unique about your child.) The names below each offer a nod to these themes for a baby born during this most festive and holy month.
For Her:
1. Holly
The dark green leaves and bright red berries are a constant and welcome sight at Christmas. What a nice way to honor the beauty of the season — choosing a pretty name for your daughter like Holly. The prickly leaves are also said to represent the Christ thorn, making this name religiously meaningful as well.
2. Belle
From the Latin "bella" for "beautiful," this is a classic name for a little girl. Although the meaning is not directly related to Christmas, when said aloud the name is pronounced "bell," a reminder of the start of Mass and the church bells that ring out at Christmas time.
3. Carol
For children born around the holiday season, the name Carol, Carolyn or Caroline could be a fine choice, as it is associated with the cheerful tradition of singing Christmas songs or hymns. As your daughter grows, you might even want to start a tradition of caroling on her birthday.
4. Noelle
This French name is not only lyrical and pretty, but also full of seasonal meaning. In fact, it means Christmas in English. And imagine the renewed delight you will have in singing the classic Christmas song, "The First Noel" along with her when she is older.
5. Mary
One of the most obvious ways to honor a baby girl born around Christmas time is with the name Mary. The name comes from the Hebrew and means "wished for child." It also, of course, is most commonly associated with the Virgin Mary, the mother of the baby Jesus. It is one name that never seems to go out of style! And rightly so.
6. Natalie
From the Latin word "Natale," meaning "Christmas," or "birthday," this appealing baby name is perfect for a December girl. Giving your daughter a name like Natalie, with its direct reference to Christmas, bestows upon her a sense of holiday goodness and light.
7. Claire
One of the most popular Christmas songs ever written, Silent Night, includes the famous lyrics, "All is calm, all is bright." The name Claire, from the Latin word meaning "clear" or "bright," is a wonderful way to pay homage to this famous holiday hymn. This lovely name will be a constant reminder of all that is good in the world.
8. Stella
Stella is a melodious name that is easily pronounced in many languages. The meaning of the Latin word "stella" is "star." A creative but still highly popular name, Stella is a beautiful way to christen a baby daughter born in December. The star symbol has particular significance at Christmas when the Star of Bethlehem burned bright to reveal the birth of Christ. In the Bible, the magi used the star to find their way to Bethlehem where they could worship Him.
9. Celeste
By naming your child "Celeste" from the word "celestial" you are honoring your baby girl with heavenly associations. The name is unique and charming, as well as a reminder of the divine and spiritual aspects of the season. Winter nights can bring magnificent views of the bright stars overhead and this name will always prompt you to think of the beauty of the night skies in December.
10. Rosemary
The symbol of fidelity and remembrance, rosemary has long been associated with Christmas, especially in Europe. Bestowing the name Rosemary on your little girl is the perfect way to express your love of this holiday season. The herb has a delightful, piney scent and rosemary plants can be a lovely alternative to decorating with poinsettias at this time of year. They even look a little like mini Christmas trees!
For Him:
1. Christopher
The ever-popular name Christopher comes from the Greek and means "Carrier of Christ." For a boy born at Christmas time, it's a classic, noble choice with deep meaning. The name is also associated with the idea of compassion and caring. Common nicknames include Chris or Topher.
2. Clement
Every parent and child knows the enchanting story of The Night Before Christmas. Why not honor the author of this holiday poem, Clement Moore, by naming your child after him? As an added bonus, the name Clement means "mild" or "merciful," a perfect sentiment for the season. As your son grows, placing a single clementine orange in the toe of his Christmas stocking every year is a fun way to celebrate his birthday month. Many people see the orange as a symbol of holiday sharing because its segments allow for easy division among family and friends.
3. Jack
The winter months never let you forget that "Jack" Frost is ready to nip at your nose. Although Jack can be a given name on its own, it originally was a diminutive for John, a name itself long associated with spiritual leadership. John the Baptist baptized Christ in the river, and many popes over the years have taken that name. In fact, there have been 23 popes called John!
4. Theodore
During this season of gift-giving, what better way to celebrate the precious joy of receiving a new baby boy into the world than with a name that means, "God's gift." It is Greek in origin (Theodorus) and is also the name of several saints including Theodore of Tarsus. A strong and classic name, Theodore reached a peak of popularity back in the early 1900s and then saw a decline but is now once again starting to climb in the charts. Nicknames include Theo and Ted.
5. Rudolph
A name fit for kings (and the occasional reindeer), Rudolph is of German origin, meaning "fame" and "wolf." A popular nickname is "Rudy." The story of the famous red-nosed reindeer, which was written in 1939 and spread far and wide, actually drove down the popularity of Rudolph as the name for a baby for many years. A name that exudes such strength and vigor, however, is sure to rise again in popularity, while it will forever remain associated with Christmas.
6. Nicholas
From the Greek name Nikolaos, Nicholas means "victory of the people." Saint Nicholas, a 4th-century bishop, is the patron saint of children and has long been associated with the bringing of gifts at Christmas time. Five popes have used the name Nicholas. It is quite popular in the U.S. right now and, without being overtly Christmassy, is a great name for a boy born in December.
7. Yule
You can't get much more seasonal than "Yule," a name that means "of Christmas time." Of Scottish origin, the name is not popular here, so you know there won't be ten others by the same name in his nursery class. The most famous Yule in recent times is Yul Brenner, a Russian born actor made famous for his lead in the musical, The King and I.
8. Gabriel
By giving your son the name Gabriel, you are giving him a Hebrew name that means "devoted to God" or "God is my strength." The name has particular meaning for a Christmas baby. In the bible, the archangel Gabriel is the one who appears before Mary to tell her she is carrying the son of God. This elegant and dignified name is climbing in popularity of late.
9. Jasper
A variation on the name "Gaspar,"or "Caspar," one of the three kings who brought gifts to the baby Jesus, this name is ideal for a December baby. The magi each arrived with a present and Caspar is usually depicted as the wise man who presented the gift of frankincense. This attractive and meaningful name will serve as a constant reminder of the Christmas gift that is your child.
10. Joseph
In the new Testament, Joseph is the husband of Mary and a carpenter. He is the patron saint of workers and of the sick, making this a name that not only reminds us of Christmas but also of the benefits of leading a hardworking and virtuous life. Joseph is an attractive and upstanding name for any holiday baby. (And he's sure to be a shoe-in for a good role in any future Nativity plays.)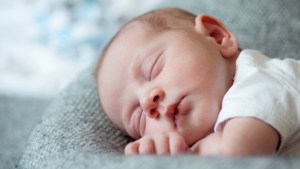 Read more:
16 Inspiring saints' names for your baby boy