5) To Change the Church: Pope Francis and the Future of Catholicism
Author: Ross Douthat
Release Date: March 27, 2018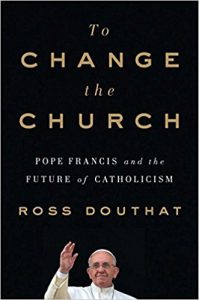 "A New York Timescolumnist and one of America's leading conservative thinkers considers Pope Francis's efforts to change the church he governs.
Born Jorge Mario Bergoglio in 1936, today Pope Francis is the 266th pope of the Roman Catholic Church. Pope Francis's stewardship of the Church, while perceived as a revelation by many, has provoked division throughout the world …
In To Change the Church … Douthat argues that the Francis era is a crucial experiment for all of Western civilization, which is facing resurgent external enemies (from ISIS to Putin) even as it struggles with its own internal divisions, its decadence, and self-doubt."
6) One Beautiful Dream: The Rollicking Tale of Family Chaos, Personal Passions, and Saying Yes to Them Both
Author: Jennifer Fulwiler
Release Date: May 1, 2018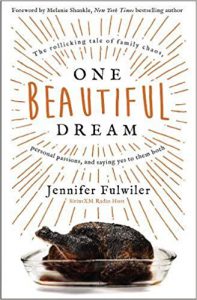 "Jennifer Fulwiler is the last person you might expect to be the mother of six young children. First of all, she's an introvert only child, self-described workaholic, and former atheist who never intended to have a family. Oh, and Jennifer has a blood-clotting disorder exacerbated by pregnancy that has threatened her life on more than one occasion.
One Beautiful Dream is the story of what happens when one woman embarks on the wild experiment of chasing her dreams with multiple kids in diapers. It's the tale of learning that opening your life to others means that everything will get noisy and chaotic, but that it is in this mess that you'll find real joy."
7) The Flame
Author: Leonard Cohen
Release Date: October 2018
"A book of Leonard Cohen's final poems, completed in the months before his death and tackling 'the flame and how our culture threatened its extinction,' according to his manager, will be published next year.
Describing the collection, The Flame, as 'an enormously powerful final chapter in Cohen's storied literary career,' publisher Canongate said that the Canadian singer-songwriter had chosen and ordered the poems in the months before his death in November 2016. The overwhelming majority of the book, which will be published next October, will be new material, it added."
8) The Passenger
Author: Cormac McCarthy
Release Date: TBD
Fans have been anxiously awaiting Cormac McCarthy's long-gestating, "analytical" science fiction novel – which apparently involves quantum mechanics, JohannSebastianBach,and the suicide of a young New Orleans woman – ever since its unveiling in 2015 (you can listen to excerpts here). There's no official release date yet, but given the prediction of somecommentators of a late 2017 release, it's very possible that 2018 will be the year.
***
We are a participant in the Amazon Services LLC Associates Program, an affiliate advertising program designed to provide a means for us to earn fees by linking to Amazon.com and affiliated sites.