They were experts at prayer and taught others their unique spiritual insights.
The Desert Fathers, who lived in 4th century, were widely known in the ancient world for their unparalleled wisdom.
Hundreds of their sayings were compiled into a volume called the Sayings of the Fathers, which contained only a portion of their profound spiritual insights. It features an immense treasury of bite-sized quotes that pack a large spiritual punch. Here is another short sampling of five sayings on how to pray.
When the holy Abba Anthony lived in the desert he was … attacked by many sinful thoughts. He said to God, "Lord, I want to be saved but these thoughts do not leave me alone; what shall I do in my affliction?" … A short while afterwards, when he got up to go out, Anthony saw a man like himself sitting at his work, getting up from his work to pray, then sitting down and plaiting a rope, then getting up again to pray. It was an angel of the Lord sent to correct and reassure him. He heard the angel saying to him, "Do this and you will be saved." At these words, Anthony was filled with joy and courage.The brethren also asked Abba Agathon, "Amongst all good works, which is the virtue which requires the greatest effort?" He answered, "Forgive me, but I think there is no labor greater than that of prayer to God. For every time a man wants to pray, his enemies, the demons, want to prevent him, for they know that it is only by turning him from prayer that they can hinder his journey. Whatever good work a man undertakes, if he perseveres in it, he will attain rest. But prayer is warfare to the last breath."As he was dying, Abba Benjamin said to his sons, "If you observe the following, you can be saved, 'Be joyful at all times, pray without ceasing and give thanks for all things."'The blessed Epiphanius, Bishop of Cyprus, was told this by the abbot of a monastery which he had in Palestine, "By your prayers we do not neglect our appointed round of psalmody, but we are very careful to recite Terce, Sext and None." Then Epiphanius corrected them with the following comment, "It is clear that you do not trouble about the other hours of the day, if you cease from prayer. The true monk should have prayer and psalmody continually in his heart."Abba Zeno said, "If a man wants God to hear his prayer quickly, then before he prays for anything else, even his own soul, when he stands and stretches out his hands towards God, he must pray with all his heart for his enemies. Through this action God will hear everything that he asks."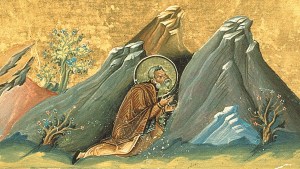 Read more:
5 Sayings from the Desert Fathers to start your week off right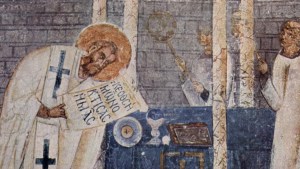 Read more:
5 sayings from the Desert Fathers to get you through the week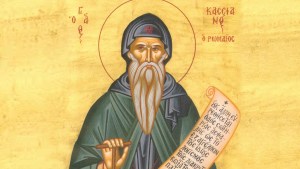 Read more:
Who were the Desert Fathers and why do they matter?