All moms need coping mechanisms, but the more dangerous ones are not funny.
One of my favorite parts about being a mommy blogger was the endless opportunity to make mommy wine jokes. Whether it was wine-o'clock or vodka-thirty, there was never a time when an alcohol joke wasn't appropriate. After all, those were the years when most of my time was divided between cleaning up spilled milk or smeared poop — and that was during a good three-martini playdate.
I know, it's funny because it's true. Not the part about drinking three martinis during a playdate — I did take my responsibilities as a mother seriously enough to remain upright and reasonably responsive. What's true is that having little kids is hard. It manages to be stressful and boring, stifling and isolating, overstimulating and understimulating, all at the same time, all day, every day. It's no wonder that so many moms make mommy wine jokes, and that so many moms end their days cuddling up with a bottle of Pinot Noir. It's understandable. It's also kind of dangerous.
I'm coming to realize more and more that mommy wine jokes aren't that funny when they're not really jokes. And when they're not really jokes, they're also not really a good way to wind down after an exceptionally crazy kid day. They're more of a coping mechanism for an exceptionally crazy time in life. And wine is not a great coping mechanism because it doesn't help us cope, it helps us go numb.
Sarah Hosseini wrote a post at Scary Mommy about the time she made a mommy wine joke at a book launch for a fellow motherhood author. Unbeknownst to Sarah, the author was a recovering cocaine addict who also eschewed alcohol. Everyone at the launch knew this except Sarah, so her joke fell flat and she drove home in shame, thinking some pretty serious thoughts about the dangers of mommy drinking culture:
That one incident changed my whole perspective about mommy drinking jokes; they aren't funny — they're dangerous. Not only do they actively threaten the sobriety of people in recovery, they're a threat to us all. The mommy wine drinking culture makes us think it's okay to deal with life's stresses with a few drinks. Maybe the whole bottle. And for many who have a precarious relationship with drugs or alcohol, it's a slippery slope … The main question I think we should be asking ourselves is this: If I could find another way to deal with mommy anxiety, guilt, pressure, and monotony, would I try it?
The thing about wine is that it's just so easy. It doesn't take any effort to open a bottle and pour a glass. If you're desperate, you can even get a twist-off cap and throw a straw in there. But like so many easy things in life, it's not a good way to cope with stress.
It just isn't a coping mechanism. It's a numbing agent. It might make you feel better in the moment (although it often doesn't) but doesn't solve any problems in the long run. It doesn't help you manage stress or fulfill your need for social interaction, it just makes you feel those things less keenly. And ultimately, that can cause problems more serious than the poop stains on the carpet.
I didn't realize just how counterproductive wine-o'clock was for me until I found an actual coping mechanism in taekwondo and kickboxing. I would come home from classes feeling happy — genuinely happy, not slightly buzzed. I was burning off the stress, making friends in class, and learning something new and challenging. For the first time I was actually coping with life, and I found myself pleasantly surprised to find that I was enjoying it, too. Resorting to wine to numb the stress of life isn't very appealing when life is more fun than stressful.
Finding a healthy coping mechanism is essential for moms, even if it seems like way too much work in those early, hazy years. Time will open up and you will find yourself with the freedom to learn a new skill or take up a new sport. In the meantime, though, don't use wine to cope. Pick up a book instead — an old favorite, not a new challenge — or steal your kid's coloring book after bedtime. If all else fails, go outside and stomp like toddler until you feel better, then look up and appreciate the beauty of the world. It's still there waiting for you, even amidst the poop and chaos.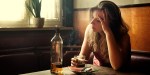 Read more:
Alcoholism, binge-drinking up sharply among Americans