Have you ever wondered why some songs just sound like the holiday season?
There are some Christmas classics that have defined the season for what feels like forever: "White Christmas," "Rudolph the Red-Nosed Reindeer," "Christmas Song," "Let It Snow." But there's one much more contemporary song that has quickly earned itself the same pedigree.
Mariah Carey's "All I Want For Christmas Is You" was released in 1994 and has quickly become a Christmastime classic. But what is it about the song that makes it sound so festive?
In the video above, Adam Ragusea, a professor at Mercer University with a background in music, explains the secret chord in this song that harkens back to those jazzy Christmas classics and, as though by magic, seems to evoke hot cocoa on snowy December night.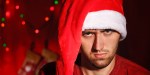 Read more:
Playing Christmas music too early: The surprising effect on your mental health