Gitanjali Rao's device detects dangerous lead contamination in water, a problem for over 18 million Americans.
When Gitanjali Rao shared how she likes "finding solutions to real problems," it was hard to imagine this dynamic 11-year-old could resolve an issue that's escaped scientists for years.
In just three months, Rao came up with a device that can replace the costly and lengthy tests currently used to reliably determine lead levels in our fresh water. With her passionate belief that "each and every one of us have the right to know our water quality," inspired by the current litigation in Flint, Michigan, after a case of water contamination from 2014-2015, Rao designed a new testing system that resulted in her being named America's Top Young Scientist for 2017.
With 5,300 U.S. water systems violating the EPA's rules concerning levels of lead in water — affecting 18 million Americans — Rao has created a device that uses three parts: a disposable cartridge, a Bluetooth reader, and an app. To put it simply, the cartridge contains carbon nanotubes (yes, we're not overly sure what they are either!) that react to lead. This reaction is then registered by the Bluetooth reader, which sends a signal to an app that can tell you immediately if your water is safe to drink.
Rao aptly named the device Tethys, after the Greek goddess of fresh water, and is hoping to make a few modifications to get the device on the market. While we may not be aware of any lead contamination present in our aging pipelines, lead poisoning can cause delays in physical and mental development. With Rao believing that the "purpose of science is to make a difference," her incredible invention could make a difference to millions of people in the United States, and all over the world.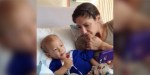 Read more:
A mom's creative invention for pediatric cancer patients