Watch: The effect is profound, and points to the deepest truth of Christmas.
As far as "flash mob" scenes go, there's something pretty profound and remarkable about this one: Christmas Food Court Flash Mob, Hallelujah Chorus. Organized in November 2010 by www.AlphabetPhotography.com, it's received more than 50 million views on YouTube. The reasons for its popularity are mostly obvious, but there's something else about this one — something bigger, something more beautiful and breathtaking. Let me explain:
In the scene, ordinary folk are eating lunch in a bustling food court decorated for the holiday season, when all of a sudden an alto in blue jeans stands up with a cellphone to her ear: "Hallelujah," she sings, kicking off the famous chorus of Handel's Messiah.
Shocked and confused, shoppers stop and stare at her until their attention is stolen by three other singers. Dressed in sweats and a janitor's uniform, they stand and echo her song from the other side of the court.
Slowly the rest of the pre-planted choir stands from among the crowd — some one at at time, some in groups of twos or threes — to complete the chorale.
"King of Kings and Lord of Lords," they sing, "And He shall reign forever and ever …"
The familiar melody, sung in all its parts — the basses and altos setting the foundation, while the tenors and sopranos trill heavenward — fills the far corners of the shopping mall as if they were the barrels and domes of a cathedral.
Not a sound can be heard except for the choir. Busy shoppers stop in their tracks. Holding up smartphones, they catch the moment on film.
Because the Ordinary is being "flash mobbed" by the Extraordinary — a heavenly choir stuns unsuspecting diners and the effect is profound. Gangsta' dads wipe away tears. A young mom stares in awe as the toddler she'd been wrestling relaxes and with wide eyes, they listen together to the song of heaven. Beauty has arrived in one of life's most common moments, out of no where, unannounced. What a fitting tribute to Our King, born in a stable, who comes to us in life's everyday moments, interrupting our Ordinary with His Extraordinary.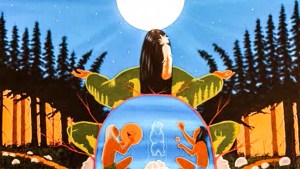 Read more:
The Huron Carol reveals God's name — by getting all the details wrong