Hundreds bid farewell to founding member of Franciscan Friars of the Renewal at New York funeral
Was it not fitting, New York's Cardinal Timothy M. Dolan asked toward the end of Fr. Andrew Apostoli's funeral Wednesday, that he should die in Advent, a season of the coming of the Light, when the Church prays, "Lord Jesus, come."
Was it not fitting, he continued, that he should die during Hannukah, "when our older brothers and sisters in the faith celebrate the triumph of light over darkness."
And was it not fitting that Fr. Andrew, one of the original members of the Community of the Franciscan Friars of the Renewal, should die on Dec. 13, the feast of St. Lucy, whose name means light, "as we begin the season of light, at Christmastime," the cardinal asked.
"Because," the cardinal concluded before leading the final prayers of the funeral, "he was indeed a light shining in the darkness that I don't think will ever go out."
Fr. Apostoli was one of eight Capuchin Franciscan Friars, including Fr. Benedict J. Groeschel, who attempted a reform of the order but ended up starting a new community. The split took place in 1987, and the men established a friary in the South Bronx. Since then the community has become an international congregation that includes almost 200 priests, brothers and sisters.
But it is still a community very much identified with the New York metropolitan area, where many of the friars and sisters still live and work among the poor. Fr. Apostoli died at one of the friaries in Yonkers, and his funeral was held at St. Casimir's Church in that New York suburb.
In a sometimes light-hearted, sometimes boisterous, but ultimately spiritual homily, one of the other eight members of the community, Fr. Glenn Sudano, recalled his brother priest as one who always "looked up."
"Holy men and women and children… saw the big picture. They looked up. They didn't look at," Fr. Sudano said, suggesting an antidote to the overly self-critical way the devil hopes people will focus on their faults and ultimately find discouragement.
Fr. Sudano noted that Fr. Apostoli, a prolific spiritual author and speaker, often wrote about the Holy Spirit, and he invited the congregation in the packed church to reflect on how his life reflected the "gifts of the Holy Spirit:" love, joy, peace, patience, kindness, goodness, faithfulness, gentleness, and self-control.
"Joy comes not from looking at life, certainly not focusing in on the faults of another, even one's own failings and faults. It's pulling the camera back. It's seeing everything," Fr. Sudano said. "When eternity is the backdrop, everything falls into proper place."
That is the example Fr. Apostoli lived, which should be a "provocation" for other Christians to imitate, he said.
Aleteia photographer Jeffrey Bruno was at the funeral. See his photos here: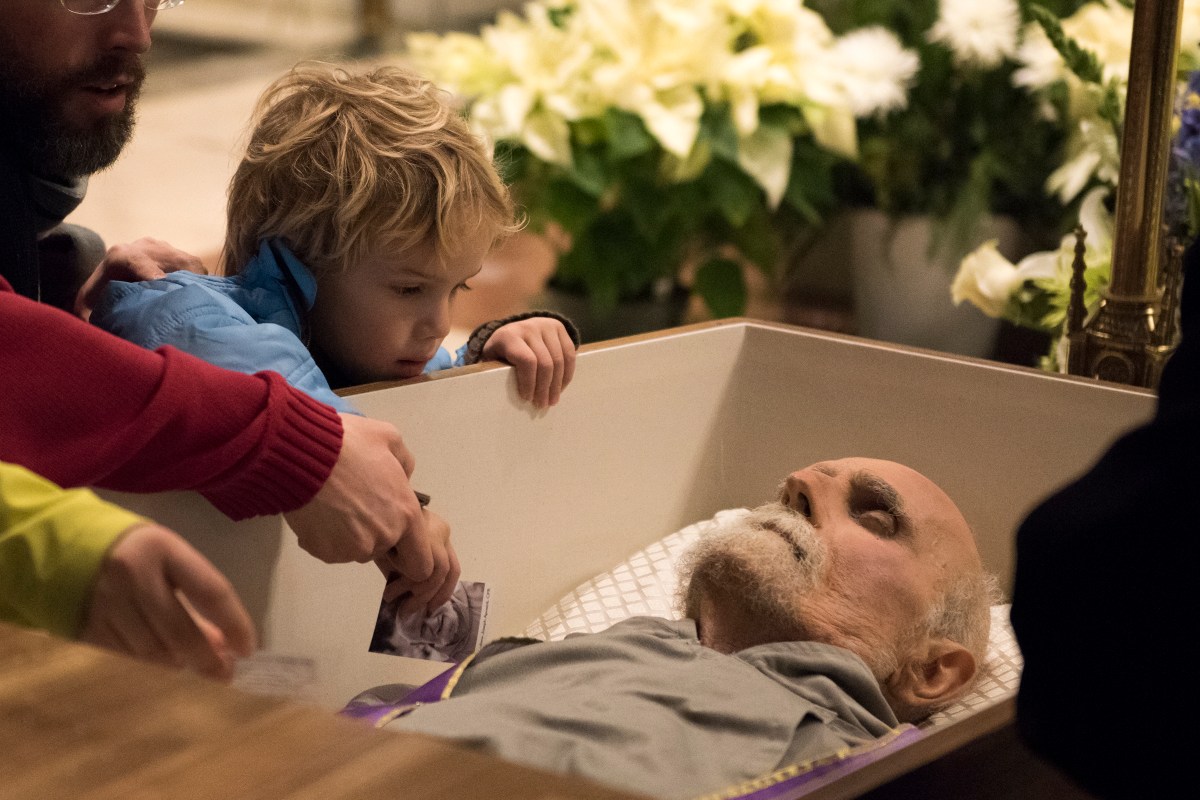 Launch the slideshow