Narrated by kids and performed by adults, you've never heard a story of Baby Jesus quite like this.
Send us the names of your loved ones who are sick or suffering. The Aleteia prayer network of 550 monasteries will take them to prayer for the World Day of the Sick.
Click here to share your intentions
This holiday video from Southland Christian Church in Lexington, Kentucky, is a reminder that we adults still have a thing or two to learn from our kids when it comes to Christmas spirit. Sure, our children get a bad rap around the holidays: it's hard to ignore their zeal for gifts and acting like stuff is the true meaning of Christmas, try as we might to tame our little present-monsters. But maybe, just maybe, they've been listening when we talk about the true meaning of Christmas, after all?
In this short film, members of the church asked their youngest parishioners to retell the story of the birth of Jesus. And the resulting narrative — chock full of imaginative details and downright funny dialogue — is priceless. Their telling of the story may clue you into things you've long forgotten about this classic tale or, frankly, never even thought about. And it gets even better: the kids' words are illustrated by adults who are really good at lip-syncing. Trust me, it brings the story to life in a wholly new, totally charming way.
Take two minutes and click play below: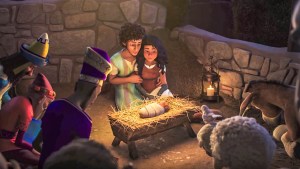 Read more:
'The Star': Timothy Reckart puts a new spin on the Nativity story