Only "direct dialogue" between Israelis and Palestinians can resolve the conflict, says Cardinal Parolin
Cardinal Pietro Parolin, the pope's secretary of state, spoke to the Italian newspaper Corriere della Sera, in an interview published today. "The only solution" to the Israeli-Palestinian conflict, the cardinal said, is a "direct dialogue" between the two parties.
The Holy See, says Cardinal Parolin, is ready to act at the diplomatic level, if there is the opportunity. However, that "depends a great deal on the circumstances and the actors involved," he says. In any case, the Church continues to refer to the "great values of the Gospel," and advocates dialogue to achieve peace.
Unilateral decisions, on the contrary, adds Cardinal Parolin, "are not useful for moving in the direction of peace." This is clearly an allusion to the decision of the United States, announced on December 6, to recognize the city of Jerusalem as the capital of Israel, rather than Tel Aviv. At the time of that announcement, the pope called for the maintenance of the status quo, in compliance with international resolutions.
Jerusalem, the Italian cardinal emphasized, is "unique and sacred" for Jews, Christians and Muslims. It could therefore have a special status to make it "an open city," ensuring freedom for the faithful of the three religions and free access to the Holy Places.
Later today, the United Nations echoed the cardinal's sentiments. The General Assembly voted 128 to 9, with 35 abstentions, to demand the United States rescind its declaration on Jerusalem. Though the resolution is largely symbolic, the overwhelming vote shows the international consensus on the City's status.


Read more:
Pope Francis voices concern over moving U.S. embassy to Jerusalem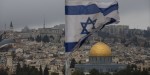 Read more:
Pope expresses sorrow over Jerusalem clashes sparked by Trump decision



Read more:
Heads of churches in Jerusalem write to President Trump, issuing 'solemn plea' for peace