The wrapping itself can be a gift of beauty and creativity!
The first impression of a gift comes from the way it's wrapped. Although we know you can't really judge a present by its wrapping, presentation does mean a lot, and reflects the care you've taken in preparing it. It can make a gift that much more special when you pay a little attention to how it's presented. So why not wrap your presents differently this year, and bring a little extra beauty to others?
Here are some gift-wrapping inspirations from around the web to help your gifts stand out from the crowd.
Go pink
Who said that Christmas colors are only red, gold, and silver? Surprise your loved ones with this joyful color.
So cute I can bear-ly unwrap it!
Wrap the box in basic brown packing paper, draw a face, and add ears and to make a friendly bear that will melt the gift recipient's heart. (A fun one especially for kids!)
Golden marker
A metallic gold marker can do real miracles on gray paper; simple stars, snowflakes, and other designs look surprisingly elegant. It will look even more spectacular on matte-finish black or dark blue paper.
With a touch of nature
Wrap the gifts with plain, smooth paper. Tie the package up with twine made from natural fibers (such as jute or hemp), and stick sprigs of hawthorn, holly, or another evergreen shrub or tree in the knot (berries or pinecones add an extra accent). It will give a rustic, back-to-nature look to your gift, perfect for those who love the outdoors.
Add some gingerbread
A sweet way to decorate and add a treat all in one!
Pompoms
Make pompoms yourself, or buy them at a craft store, or online; glue them to the gift for a festive and unusual effect.
Sheet music wrapping paper
This is a great idea for those who value sophistication and elegance. Sheet music wrapping paper is readily available online, if not at a local store. Add a fancy golden or red ribbon for the basic version; or for a more feminine "premium" look add a decorative brooch to the center of the ribbon. For a shabby chic twist, you can replace the sheet music wrapping paper with old newspaper (black and white, without photos).
Lace ribbons
Buy a large roll of lace ribbon and use it instead of regular solid ribbon Lace looks great with plain, solid-colored wrapping paper, as well as with metallic gold or silver paper.
Bells
Attach a small round bell or two as you make the knot on the string.
Tinsel garland
Usually used to trim a Christmas tree, you can use tinsel garlands to replace the ribbon on your gifts. Buy new, or use some tinsel you've decided not to use on the tree anymore.
Linen instead of paper
An expensive but very beautiful (and reusable) way to wrap gifts!
Wax seal
Instead of a bow, you can opt for something truly retro: sealing wax! Both wax and stamps are commercially available; if you prefer, you can cut your own stamp from wood or linoleum.
Elegant red ribbon
Sometimes, classic simplicity is the way to go, and it's hard to find a more elegant and timeless packaging than white boxes (or wrapping paper) and red ribbon.
Of course, you can mix and match elements of these suggestions—or, just maybe, some of the more "outside-of-the-box" ideas will inspire you to come up with something entirely your own!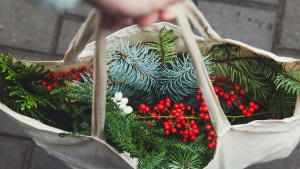 Read more:
16 All-natural and easy Christmas decor ideas to transform your home