She made a courageous decision to embrace the wild, disorganized, sticky, loud, and magnificent truth that is her family.
Stephanie's home was in a state of pandemonium. Nothing was going as planned. Her youngest son ran amok with his shoes untied, his shirt un-tucked, and spaghetti sauce smeared on his face. Two loud and excessively rambunctious dogs chased him down the driveway, desperate to get the soccer ball he was kicking. Her husband, preoccupied with work, had his phone pressed to his ear as he moved from room to room, desperate to avoid their oldest son as he shouted complaints of missing shoes and lost time with friends. As an exasperated Stephanie refilled her glass of wine, her daughter spun around like a top, sending her expertly coiffed hair into complete disarray.
It was picture day in the Buhalis home. For the past five years I've been photographing them for their Christmas cards, and I know Stephanie strives for perfection. The process begins with scheduling the session which, due to soccer games, work conflicts and the inevitable unexpected flu, must be rescheduled multiple times. Roughly 36 texts messages later, a date is secured.
Next, Stephanie scours the Internet, crossing fingers she'll stumble upon the ideal sparkly leggings for her daughter and dapper coordinating cable knit sweater for her oldest son. Hours turn into weeks, and the pressure builds, but eventually the hunt is over and the goods are delivered. Then it's on to booking (and re-booking) haircuts for the boys and blowouts for the girls.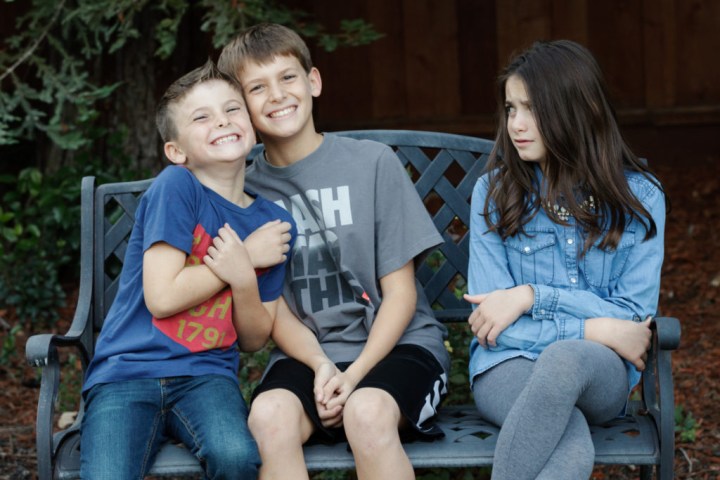 On appointment day, Stephanie braces for the nonstop complaining that will inevitably begin 20 minutes before the first haircut and won't end until the last click of the shutter.
When the kids were younger, Stephanie reveled in the process of designing and producing the perfect card. She became known for her glorious creations, and each year family and friends waited with anticipation to see how she would outshine the previous year's greeting. As her children got older and life became more chaotic, Stephanie found her desire to produce the Pinterest-perfect Christmas card fading. Somewhere along the way, the joy Stephanie felt was replaced with stress and anxiety; by the time I arrived at her home for this year's shoot, she was at her wit's end.
"It's going to be just me this year," she sighed.
"I'm not kidding. This year's Christmas card will have just me on the front." Surveying the anarchy, she proclaimed, "It's just gotten too hard to produce the perfect family photo, so I give in. I told them they can wear what they want, and if they don't feel like being in the picture, that's okay, too."
She was dead serious.
We sat down on the porch steps and she shared her revelation with me. She had begun the day with high hopes, but then her husband got caught up at work and her kids were late coming home from school. This left Stephanie with exactly 34 minutes to wrangle three opinionated kids who refused to wear what she had laid out for them, let alone brush their hair, two barking dogs and a husband who was tethered to his phone.
In the midst of the turmoil Stephanie poured herself a huge glass of pinot noir and steadied herself against the doorframe to await my arrival. It was only when she slowed down to think about the craziness that she found her answer: She could either push her family harder or she could give in to the moment and enjoy her family as they were.
Stephanie's realization allowed her to let go of the past and reimagine her Christmas card. Together, we came up with a new concept. This year's card would celebrate all the disarray and imperfections inherent in family life.
The resulting photographs captured the Buhalis family in their natural state, with barking dogs, soccer balls, phone calls, and Stephanie toasting a glass of wine to the whole wonderful, chaotic mess.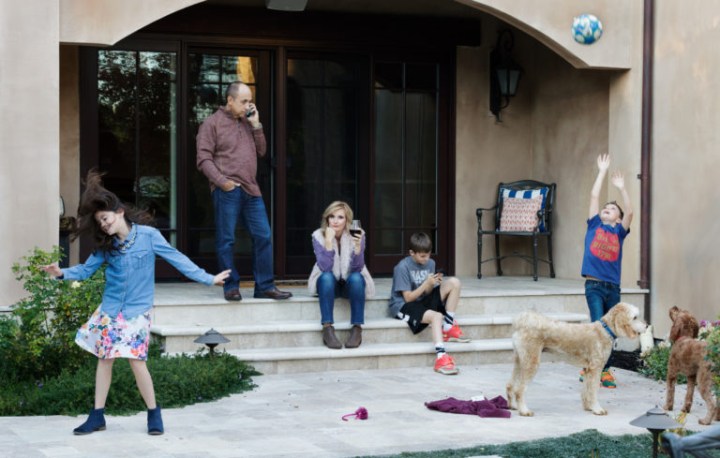 When I look at the shots, I see a family that's alive. I see a mom's uncontrollable love as she strives to enjoy her bedlam. I see a family living vividly and a mom who finds the humor in the untidy moments that make up our lives. But most of all, I see magic in the mayhem; magic that is traditionally left on the cutting room floor.
On some level we are all Stephanie. We carefully cultivate the image of our lives to the outside world, and in doing so, we've lost our truth in the competition. By constantly comparing our family and ourselves to what someone else claims is perfect, we've let go of our ability to redefine what perfect means to us. To realize that perfection is pliable. We're too busy to find beauty in our chaos because mentally we live two steps ahead, designing how we will present our family to the outside world. What we fail to realize is that everyone around us is doing the exact same thing.
We are left with a skewed vision of life, an airbrushed version of ourselves. This year Stephanie made a courageous decision to embrace the truth; the wild, disorganized, sticky, loud and magnificent truth that is her family.
This year's card will be her most glorious yet.