With all the talk about the White House, don't forget to take a look at the Second Lady's meaningful choices.
First Lady Melania Trump's decorations for the White House have been the hot gossip lately, but what about Second Lady Karen Pence and Vice-President Mike Pence? Both beautiful and meaningful, their 2017 Christmas decor deserves a shout-out of its own.
One of the multiple Christmas trees, decked out in red, white, and blue, is dedicated to military veterans, with each branch of the military represented by ornaments made by the family of its service members.
Another tree is adorned with ornaments made by patients in the Art Therapy program at Riley Hospital for Children, and the decorations also feature a gingerbread replica of the Vice-President's house, weighing over 100 pounds.
Metallic stars, garlands, a Nativity set, and more also decorate the house, but their choice to feature both military veterans and the children's hospital is what makes their decorations really stand out. Let's hope that many people see the significance of these decorations and keep the people who inspired them in their prayers this Christmas
You can see more pictures of these decorations here.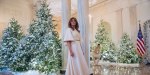 Read more:
Melania Trump reveals this year's White House Christmas decorations