The Church used to celebrate a fascinating feast day on December 24.
During the Middle Ages, the Church in various parts of Europe celebrated what was been referred to as "Adam and Eve Day" on December 24. It was the final preparation before Christmas and is tied to the development of the Christmas tree.
Over the centuries theologians have come to label Jesus and Mary as the "New Adam" and the "New Eve." This corresponds to their role in reversing the "no" of the first Adam and Eve in the garden by saying "yes" to God's plan.
St. Irenaeus summarizes the logic of this profound truth.
The Lord, coming into his own creation in visible form, was sustained by his own creation which he himself sustains in being. His obedience on the tree of the cross reversed the disobedience at the tree in Eden; the good news of the truth announced by an angel to Mary, a virgin subject to a husband, undid the evil lie that seduced Eve, a virgin espoused to a husband.As Eve was seduced by the word of an angel and so fled from God after disobeying his word, Mary in her turn was given the good news by the word of an angel, and bore God in obedience to his word. As Eve was seduced into disobedience to God, so Mary was persuaded into obedience to God; thus the Virgin Mary became the advocate of the virgin Eve.
To highlight this reality the Church celebrated a feast in memory of Adam and Eve on the day before Christmas, the birth of the Savior. It brought the Advent season into full circle and reminded people of the primary reason behind the Incarnation.
To commemorate the unique feast, there also developed a "Paradise Play," that recounted the story in Genesis. A central part of the play was a "Paradise Tree" that stood for the tree in the garden of Eden. On the tree the people hung fruit and some believe that this tree and its proximity to Christmas was an early form of a Christmas tree.
It is a fascinating historical feast, one that heightens the drama of Christmas Day and reminds us why Jesus' birth was such good news.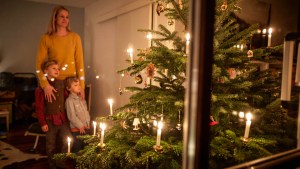 Read more:
How to bless a Christmas tree