Ideas that will ensure your guests are happy while feeding their healthy lifestyle.
Have you ever returned from a birthday party a bit too full, or with a feeling of "heaviness" because you ate too much? At parties and family gatherings, food tends to be plentiful and varied — an irresistible invitation to eat more than we should!
However, we shouldn't worry only about the quantity we eat, but also the quality. Too often, the food served at parties tends to be high in calories, fatty, salty, or very sweet — in other words, anything but healthy. Even if we tell ourselves it's only for one day, we need to be careful!
That is why I recommend another type of food you can offer your guests when hosting a birthday party or any other festive gathering. Here's a sample menu of healthy and nutritious foods for all tastes.
Hors d'oeuvres
Remember: these are not the main meal, just an appetizer. That means that we should eat just enough to take the edge off our hunger, without killing our appetite before the main course is served.
It's important to opt for a fresh appetizer, such as a vegetable platter accompanied by low-calorie dips, bruschetta, caprese skewers (tomato, mozzarella and basil), and lean proteins such as low-fat cheeses or cubes of lean deli meats. These are simple ways to replace typical fatty finger food such as potato chips, nachos, and cheese sticks.
First course
The first course before the main dish must be something light. Of course, we should take the season of the year into account. In the summer, for example, something cool like an attractively presented salad is a very nutritious and welcome option. If the celebration is during the winter, we could serve a delicious vegetable soup to counter the cold weather. Both options provide plenty of fiber, vitamins, and minerals, and are low in calories as well.
Main course
Sandwiches are an easy and healthy option, if we use the right ingredients. Start with bread made with whole grains and seeds. Different proteins can be offered, such as chicken, lean beef, tuna salad or egg salad (using low-fat mayo), or smoked salmon. Toppings can include pickled egg slices, low-fat cream cheese, low-fat mayonnaise or olive oil, mustard, and vegetables to taste: lettuce, tomato, basil, pickles, shredded carrots, avocado, etc.
Wraps are another good option, especially if the flatbread used is whole-wheat.
Dessert
By the end of the meal, everyone is probably quite satisfied, so it is wise to avoid heavy desserts and large portions. It's best to choose some easy-to-prepare, light, fresh treats, pleasing to both children and adults. Here, fruit is your best ally; it provides multiple health benefits, because it is a natural digestive and provides antioxidants, vitamins, fiber, and water. As if that were not enough, fruits usually have no fat and are low in sodium.
Fruit salad is naturally sweet and high in fiber, vitamins, and minerals. You can serve it in individual cups, which can be a more attractive presentation than serving from a large bowl. You can garnish the individual servings with nuts or dried fruits, for both additional flavor and a decorative touch.
Another option is to prepare fruit skewers. The main difference from fruit salad in preparation, of course, is just that you put the fruit on wooden skewers instead of in a cup or bowl. However, since this transforms it into finger food, it is more fun and playful.
An assortment of nuts and dried fruit (and maybe with a chocolate chip here and there) also works. With nuts, you have the added bonus of consuming good quality fats such as oleic acid, which is heart-healthy.
If you're serving cake, it's a good idea to cut it into small portions to avoid over-eating or waste. People can always go back for seconds! Also, if you have the option, go for a cake with a thin layer of frosting. Otherwise, most of the adults in the room are going to leave the extra half-inch of frosting on their plates, and the children will end up either with a sugar high or with half of the frosting on their faces and clothes.
What about beverages?
When we go to parties, we spend most of the time drinking carbonated beverages, but they are rarely the healthiest option. Unless they are diet or "light" versions, they tend to have high sugar content. It is time to get original for your party and offer fresh, nutritious options!
Infused water: add natural lemon, orange, mint, or cinnamon flavor (for example) to plain filtered water or to unflavored carbonated mineral water. You can do this by adding a twist of natural juice straight from the fruit, or by soaking cut fruit in the water ahead of time. This is usually a healthy option because infusions are much lower in calories than pure fruit juice or store-bought carbonated beverages. Besides, with a nice presentation, infusions can be quite attractive.
Unsweetened iced tea — whether black tea, or an herbal or fruit-based infusion—is also a flavorful option. Add Stevia or another calorie-free sweetener if you desire.
Alcoholic beverages provide empty calories — that is to say, many offer no healthy nutrients; that's just one more reason, if we consume them, to do so in moderation.
Remember, healthy options need not be unattractive or bland. Let's work on being aware of the importance of healthy eating, and of the many interesting menu items available. I invite you to make your birthday original and healthy for everyone! What better "party favor" for your guests than a healthy, delicious meal?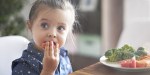 Read more:
3 Ways to help kids eat healthy foods


This article was originally published in the Spanish edition of Aleteia, and has been translated and adapted here for English-speaking readers by Martha Fernández-Sardina.