In 2018, make a vow to become smart, economical, and healthy shoppers.
When we go grocery shopping, we usually have the idea that healthy food is always the most expensive, but that is not necessarily the case. The cheapest is not always unhealthy, nor is the most expensive food always the best for our bodies.
If we have a limited budget it is very important to know what and how much to buy, but it's equally important to pay attention to the quality of our food.
We know that we must eat well in order to be healthy; our diet must be balanced and nutritious, as well as affordable. Here are some practical tips that can help us be smart shoppers.
1. Prepare homemade food instead of buying processed foods, which are usually more expensive and contain more fats or unnecessary sugars.
2. Eating red meat is an important way for us to meet our body's iron requirements and to prevent anemia. Sometimes, though, it is a bit expensive, so what we can do is eat small amounts of red meat, fish, and chicken with low fat content. The recommended serving of meat is the equivalent of the size of the palm of your hand at least twice a week; we can eat portions of fish or chicken (also the size of our palm) during the rest of the week.
3. Eating legumes (such as peas, beans, lentils, or chickpeas) is a very good option, because they tend to be affordable and very nutritious. They are a source of protein and non-heme iron (which is absorbed two to three times less efficiently than the iron in meats, but still can be an important contribution to our diet). They can be used not only in stews, but also in salads and hamburgers, and in various other recipes.
4. Eggs are a very good option since they provide essential nutrients and a feeling of satiety, and can be included in numerous recipes.
5. Choose seasonal, local fruits and vegetables, as these products are fresh, contain more vitamins and minerals, and are often less expensive than imported or conserved products. Another possibility is to buy frozen vegetables, which can also be more practical. Canned vegetables are also a worthwhile option, but they must be consumed in moderation because of their high sodium content; we also must be careful with storing them properly once we have opened the can. All of these options, however, allow us to enjoy a variety of vegetables throughout the year.
6. Planning weekly meals for the whole family is a good way to avoid wasting food, and to eat healthily and economically. Take-out pizza is an easy solution when we're not sure what to fix for dinner, but it's not the best option for our wallet or our waistline.
7. We can make a basic list of the foods that are needed each week, and limit ourselves to buying only what's on the list, plus any additional ingredients needed for particular dishes we plan on preparing that particular week.
8. Check what is already in the pantry before making our shopping list.
9. Schedule some extra preparation time so as to make extra food to freeze. That way, we will have some meals ready for days when we do not have time to cook, and avoid resorting to fast foods.
10. The flip side of the previous tip is that, to minimize food waste, at mealtime we should only serve what we are actually going to eat; if we prepare more than we need, we should either refrigerate the leftovers and eat them within two or three days, or freeze them.
It can also be useful to put together our own recipe book with healthy dishes to make it easier for us to prepare our weekly menu, and make our menu as varied and appetizing as possible for the whole family. Being attentive to the days on which various stores offer specials and sales may also be helpful: we just need to be aware of the expiration dates on the food we buy. It does us little good to buy a lot of something on sale if it's going to go bad before we can eat it.
Lastly, we should remember not to go shopping when hungry, because it is very likely that we will end up buying unnecessary and unhealthy things that we would not buy otherwise.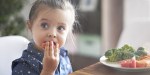 Read more:
3 Ways to help kids eat healthy foods


This article was originally published in the Spanish edition of Aleteia, and has been translated and adapted here for English-speaking readers.