Try this life-hack to help you learn as you listen to a lecture.
Recent studies have shown that students who use laptops or tablets during classroom lectures actually retain less than those students who take notes the old-fashioned way – with pen and paper.
It turns out that blindly typing a professor's words doesn't involve as much actual thinking as when a note-taking student, by necessity, has to write down only the key points of a lecture.
Whether in school or out in the "real" world, many of may never have learned the art of great note-taking skills. This video offers this three-step system to help learning the material in the classroom as the lecture is being given:
Don't write down facts, write down conclusions
Use colored pens
Review your notes
Note-taking is a life skill that doesn't become any less necessary once you are out of school. Who knows, that interminable staff meeting might not seem so bad if colored pens are involved.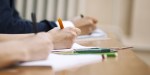 Read more:
The benefits of taking notes by hand (and leaving the laptop for later)